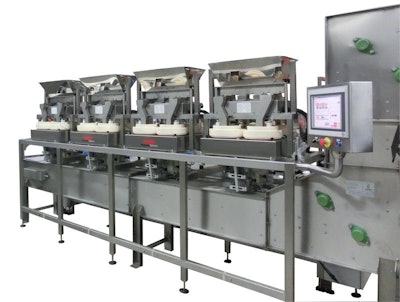 At booth W-638, PallayPack's High Speed Supplement Pack Counter is on display—the system is unique in that it combines a tablet counter and a sachet packaging machine resulting in a flexible daily-dose packaging system.
While the system is suited for pharmaceutical or nutritional products, its ability to feed multiple products and combine them in a single package can be used for any small parts, medical device kits, toys, etc. The system can quickly count many different products in varying quantities.
Because there are no change parts for the counter, changeover is fast. Unlike legacy counting systems for this type of application, the counter does not jam, even on shaped tablets, uneven soft gels, hard capsules and dusty pills.The counters can handle a wide tolerance in product size because the system does not rely on mechanically sorting the product.
Quantity of contact parts are minimized according to the model chosen.
The High Speed Supplement Pack Counter can feed supplements according to recipes which are saved in the memory of the controller at a rate of 50 cycles per minute. The system can be configured with counters using a variety of lanes depending on speed required (two, four or six are most common), and then by the number of different products (typically between one and eight) resulting in a flexible system.
Each tablet feeder bowl also incorporates a precise electronic count eye, the same as used on PallayPack's multi-lane counters. Control systems allow speed adjustment, count adjustment and all data is saved in memory.
Companies in this article