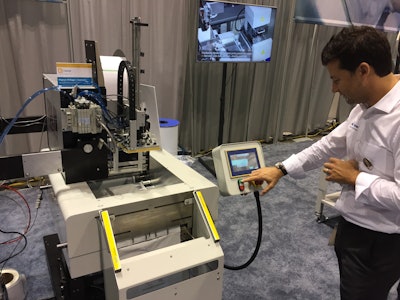 PAC Machinery's Magnum horizontal bagger meets the unique requirements of bagging large products horizontally. This bagger works with coex mailer tubing, as well as bag on a roll. By using coex mailer tubing, distribution centers save on material costs even further by right-sizing bags for the product being packed. The magnum Horizontal features several configurations of label applicators to automatically apply the shipping label to the bag.
This automatic bagger can package products at speeds up to 70 bags per minute using pre-opened bags on a roll, and up to 40 bags per minute using poly tubing.
A built-in interface simplifies integration of robotics or other automatic in-feed devices for in-line filling of long, bulky or variable length products. With either a thermal transfer printer or a label applicator, graphics, barcodes, and inline text can be printed right on the bag. The Magnum Horizontal can be configured with a range of options (hole punch, wider seal bar, light curtain) to tailor the bagger to the specific packaging application.
The Rollbag Magnum Vertical automatic bagger is a bag making and sealing system for automatic packaging. The Magnum Vertical is a revolutionary compact form/fill/seal system that utilizes tubing, in addition to Rollbag™ pre-opened bags-on-a-roll. Size changes and setup are simple, using the built-in job storage feature and large color touchscreen. Help screens and built-in diagnostics ensure optimum performance and uptime.
Built-in interfaces simplify integration of counters, scales, robotics and other automatic feeding devices. With the optional thermal printer, the Magnum can print graphics, barcodes and text, as each bag is indexed through the machine, eliminating the material cost and labor expense of applying labels.
Companies in this article