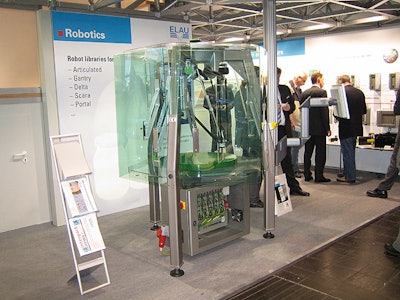 ELAU dominates automation category at Interpack 2005
It might have been the ELAU banners greeting visitors at all the entrances to the Dusseldorf fairgrounds. Or the 120 show guides sponsored by ELAU that appeared everywhere. Or maybe it was the crowded two-story ELAU booth with the delta robot buzzing back and forth on highly complex trajectories.
It didn't even seem possible to open the show dailies without being directed to a map of ELAU customers' exhibits. And for the company's Supplier News sponsored article at www.packworld.com the lead story was "Live from Interpack" featuring several new machines equipped with their PacDrive automation system.
But mostly it was the 140+ machines equipped with ELAU's PacDrive system that stole the show at Interpack 2005. By delivering specialized packaging solutions unavailable from the automation generalists ELAU became the control system of choice on the best machines from the Who's Who of machine builders at Interpack 2005.
Trend: open architecture modular robotics
Robotic functionality was a clear trend with ELAU permitting machine builders to replace proprietary robot controllers with an IEC conforming robotic software library. This new library allowed mechanical engineers to innovate robot arm designs without needing to become kinematics experts.
Robotics give OEMs new revenue opportunities for a minimal investment – a valuable asset in today's hypercompetitive market. This is especially important for export sales to the U.S. due to the prolonged weakness of the dollar.
For end users having robot control performed by the same open architecture controller as the rest of the machine instead of a "black box" means real savings in addition to greater flexibility..
Robotic modules appeared on Cavanna Pester Somic Waechter and other ELAU customers. The new designs replace conventional infeed collating cartoning and case packing machines with extremely agile robot modules that are infinitely adjustable to future format changes.
A coming of age
ELAU's strong showing at Interpack did not go unnoticed by end users the trade press and OEMs from the Americas India and Asia. And while few North American companies exhibit at Interpack the event is well attended by visitors from the US and Canada interested in seeing the latest technology trends.
Fortune 100 companies came to Interpack to name ELAU as a preferred supplier and learn more about the company's capabilities. At the same time OEM design engineers found what they were looking for -- a truly integrated alternative to control systems that claim to be but are still based on PLC and proprietary motion control architectures.
It was a different atmosphere from Interpack 2002 in which ELAU was recognized as an up-and-coming automation supplier with good potential. The number and quality of machine builders using ELAU at Interpack 2005 was proof that the company has emerged as the global market leader specializing in packaging automation.
Companies in this article