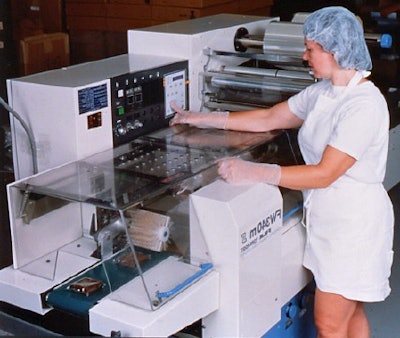 "Something that had taken us five-person hours now takes us 20 minutes," says Lois Ford, Bellows' president. "[The machine] completely changed the way we did business. It changed our production and the way we pack product. It helped us make the whole process much more efficient."
The wrapper is designed to operate at speeds to 250 packages/min. Bellows runs at speeds ranging from 50 to 125 packages/min., depending on the size of the product. "It's fast and easy to adjust, and it can handle a variety of different products," adds Ford. During changeover, which Ford says takes about two minutes, an operator uses a handwheel adjustment of the forming box to make changes for wrapping various product shapes and sizes.
The bakery's 1/4-oz to 5 3/4-oz cookies and brownies, plus other small square items that range from 3 oz to 5 1/2 oz, are packed in custom-made 1-mil polypropylene bags from Mobil (Macedon, NY). The baked goods retail from 99¢ to $2.49.
Ford estimates a four- to five-year payback time for the new wrapper. A labeler for inline printing and applying is the next piece of equipment Bellows plans to purchase.
Companies in this article