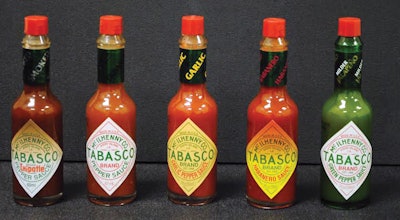 McIlhenny Co., Avery Island, LA, has been producing Tabasco® brand sauce products since 1868. Always quality-minded, the company a few years ago embarked on an effort to perform 100% inspection of the three labels on each bottle to ensure that the right labels are properly positioned on every bottle. This presented a major challenge for vision inspection systems because the filled, sealed, labeled bottles can come down the conveyor inspection line oriented in any direction.
McIlhenny produces glass-bottled product sizes (ranging 2-oz-12-oz) on four packaging lines, operating at about 300 bpm. Each bottle bears a diamond label on the front, a rectangular label on the back, and a wraparound label on the neck top. In addition, a fitment underneath the cap is applied to control product flow during consumer dispensing.
Tom Grimsley, Jr., Bottling Manager for McIlhenny, notes, "For our customers around the world we use hundreds of different labels in various languages. It's critical that the correct label is affixed properly to every bottle. If we produce an order for one country with labels intended for another country, we will have unhappy customers and considerable expenses to remake and reship the product. In addition, we want to make sure that the label positioning is perfectly precise."
Grimsley adds, "In the past, we used infrared light and photo-eyes to inspect our labels. This method was capable of determining whether the label was in the correct position, but could not determine if the label itself was the proper label for the order. We wanted something better. So about two years ago, I went to a packaging trade show with our Purchasing Manager and Maintenance Manager to evaluate the latest vision inspection systems for bottling lines. Together, we concluded that Acquire Automation Inc. had the best-performing solution for 360-degree inspection. Acquire Automation uses OmniView technology from Cognex to produce a complete image of the circumference of the bottle. The system offers an operator-friendly human/machine interface and can easily be programmed for new labels and bottle sizes. We also liked the fact that the system is compact, measuring 30 in. by 30 in. So it easily fits within the footprint vacated by our previous vision inspection system."
4-camera full-body scan
The Acquire Automation system uses four Basler Gigabit Ethernet cameras to obtain a 360-degree view of all features of each bottle. So the bottles can be in any orientation as they pass through vision inspection.
Acquire Automation configured the system at their own facility prior to shipment to the McIlhenny facility. Acquire Automation engineers calibrated the cameras and used Cognex VisionPro tools to train the system to identify each of McIlhenny's labels. These engineers also use remote access to perform trouble-shooting without having to travel to the Avery Island site.
Cognex OmniView vision software technology uses images from multiple area-scan cameras positioned around the bottle to instantly generate a virtual 3D surface model. It then creates a seamless, undistorted, unwrapped image of the complete bottle surface to which optical character recognition (OCR), barcode reading, and other machine vision software tools can be applied. The inspection station can read barcodes, verify text, inspect graphics, and measure label angle and position at production line speeds up to 1,200 parts per minute. Cognex VisionPro software tools configure the label inspection routine through a combination of pattern recognition and color matching. Programmers set tolerance limits to ensure that incorrect labels cannot pass inspection.
The vision system communicates with McIlhenny's programmable logic controls to reject non-conforming products and shut down lines in the event of consecutive non-conforming products. Additional inspection tools check bottle fill level, ink-jet code presence, cap placement, and label damage.
Grimsley says, "This inspection system provides confidence in the quality and conformance of every product we ship. The entire implementation process was seamless, and integration was simple. It's a very user-friendly system and has been well-accepted by our operators. It's already paid for itself, primarily by ensuring that only conforming products are shipped to customers."
Companies in this article