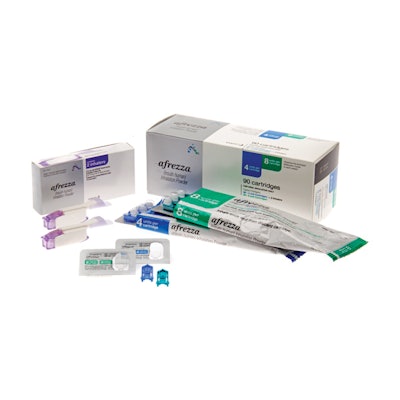 Afrezza is manufactured by MannKind Corp., and distributed by Sanofi-aventis U.S. LLC. Afrezza is a drug-device combination product that consists of a dry formulation of human insulin delivered from a small and portable inhaler to help patients achieve blood sugar control.
In a press release announcing that FDA had approved Afrezza to treat diabetes, the agency said, "The drug's safety and effectiveness were evaluated in a total of 3,017 participants—1,026 participants with type 1 diabetes and 1,991 patients with type 2 diabetes."
Afrezza is available in 4-unit and 8-unit single-dose cartridges of insulin powder that can be used, as prescribed by a health care professional, in combination with other diabetes medications to achieve target blood sugar levels. For Afrezza doses exceeding 8 units, patients may use a combination of 4-unit and 8-unit cartridges. Other sizes of cartridges are being considered.
The disposable inhaler can be used for up to 15 days, should be kept in a clean, dry place with the mouthpiece cover on, and may be wiped with a clean, dry cloth if needed. Full Prescribing Information for Afrezza, including Boxed Warning, are available at www.Afrezza.com.
"Afrezza is an important addition to Sanofi's growing diabetes portfolio of integrated, personalized offerings, and it is one that highlights our dedication to bringing innovative therapies to people with this disease," says Pierre Chancel, Senior Vice President Diabetes Division, Sanofi. "There is a recognized need for an insulin that doesn't require an injection, and our organization is committed to making this new treatment option available to patients."