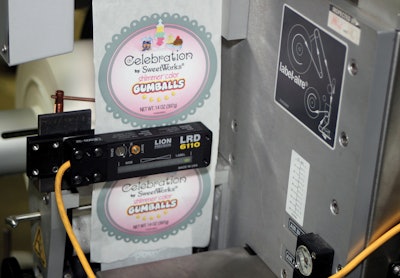 A self-described "converters' converter," TechniPac Inc. specializes in providing innovative solutions to challenges brought to them by other converters, frequently film producers. And that, in a nutshell, explains how a new breed of clear-label sensor from Lion Precision made its way onto the Labelaire labeler at TechniPac.
It all started when Buffalo, NY-based confectionery company SweetWorks needed premade pouches for its gumballs. The pouches were ordered from Overwraps Packaging. Overwraps partners with TechniPac for the pouch-making and label application for SweetWorks gumballs.
TechniPac also uses a Label-Aire labeler to apply pressure-sensitive clear labels to the pouches before it stacks them in a carton for shipment to the plant where they are filled. The labels come from Rebs Marketing. Because the labels are clear, says TechniPac VP Sales and Development Greg Melchoir, some difficulties were encountered in the early days where registration was concerned because the only thing the labeler's photocell could fix on for positioning accuracy was the round edges of the label graphics. Compared to a nice, clean, perpendicular edge of some kind, the round edge was suboptimal. Thus the registration issues.
"So we asked Rebs Marketing if they could add an eye mark to the release liner," says Melchoir. "They said they could, but they also said it would add to the cost, mainly because it requires some time-consuming web handling and make-ready issues. Fortunately, that's when Rebs Marketing came in contact with Lion Precision, where a new clear-label sensor had been developed specifically for detecting the leading edge of a clear label against its release liner. Rebs Marketing asked us if we'd try it, and it's been working great ever since we started with it last May."
Capacitance
The Lion Precision sensor referred to is the Model LRD6110. Unlike an optical sensor like the photocell that TechniPac formerly relied on, the LRD6110 is a capacitive sensor. As the label web runs through, it passes through an electrical field that is affected differently when the portion of the web having a label on it enters. So in a sense, what's being measured is thickness. The label web is thicker at the instant that the leading edge of the clear label enters the electrical field. By pinpointing this moment, the sensor has a precise fix on where the label is and can communicate to the labeler's controller precisely when to apply the pressure-sensitive label. The result is accurate placement in register.
According to Lion Precision's Mark Kretschmar, the LRD6110 costs roughly $800. In this particular application, by not having to add eye marks to the release liner, somewhere in the neighborhood of $15,000 annually is removed from the total cost, he adds.
He also points out that a whole new level of convenience is now available since the LRD6300 was introduced at PACK EXPO International last year. In using the 6110, the operator requires a tiny screwdriver to calibrate for a new job setup. "The tech guy at TechniPac gets it, so it's no problem for them," says Kretschmar. "But some plants have less technically oriented operators who may struggle to get a good calibration. With the 6300, you just peel off a label, put the clear spot in the sensor, and hold down the setup button for one second."
Companies in this article