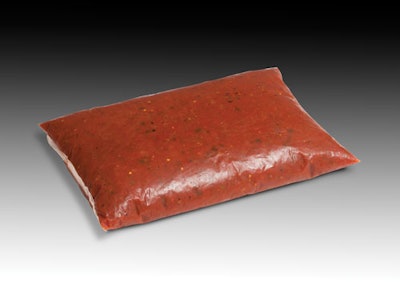 The film is available in 2.5 to 5.5-mil thicknesses, depending on the end user's needs.
Designed for products such as soup, sauces, and condiments in weights up to 30 lb, Liquiflex films go from the freezer to re-thermalization in boiling water for easy food storage, preparation, and serving.
The film was first commercially available in January 2009. Since then, several companies have used the film, but the first user of the total system of the film and the vertical form/fill/seal equipment used to make pouches from the film was Deli Star Corp., a Fayetteville, IL-based deli product maker/bulk liquid processor (see story, page 60).
Liquiflex Advance is a proprietary coextrusion of polyethylene and nylon, with or without EVOH for oxygen barrier. The 13 layers are bonded together in the molten stage during extrusion, with no further converting necessary beyond slitting to the customer's required width.
The film delivers improved strength per mil of thickness, providing users the opportunity to downgauge films for cost savings with no compromise in product performance, according to Curwood. The material is available in medium, high, and ultra-high barrier levels, each in multiple thicknesses. Films are available that provide up to a 24-month shelf life for oxygen-sensitive products. Material can be printed flexographically in up to 10 colors.
Curwood says the film can also be used for nonfood applications, such as bulk personal care, liquid soaps, bag-in-box, or any pumpable product. The manufacturer says that competitive films in this market segment are coextruded and do not yield a 13-layer structure.
Companies in this article