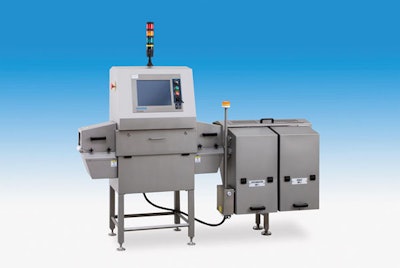 The kettle-cooked products are pumped to a custom-built four-nozzle filler that hot-fills them into multilayer, coextruded, metallized polyolefin film pouches and seals them at rates of 220 pouches/min (55 cycles/min). Average pouch size is 110 mm long x 90 mm wide x 10 mm deep. TSC Foods deems the rollstock and form/fill/seal equipment suppliers confidential.
In the past, TSC used a metal detector and a checkweigher to fulfill government-mandated inspection requirements. But when the company needed higher production speeds and wanted to ensure it was meeting 5mm stainless steel metal detection specifications, the existing inspection equipment could not cope. Even after TSC installed a higher-speed checkweigher, consistently reliable weight verification remained a problem.
Once it was clear to TSC Foods that their new system was not performing at the level desired, the company began searching for alternatives. TSC's Area Manager Shane Barrick, responsible for this production area, contacted various major inspection companies before finding that X-ray technology has checkweighing and metal detection capabilities that might respond to the company's needs.
Barrick and his production team concluded that the Eagle Pack 240 X-ray inspection system with twin air blast reject from Smiths Detection (www.smithsdetectionpid.com) was the most suitable system, given the package sizes and line speeds involved. This system was able to detect metal contaminants as small as 1.0 mm, while running at 213 ft/min and simultaneously weighing the packages at accuracies of +/-0.29g.
Barrick says, "We had struggled for six months to accurately check/inspect product from our quad-lane sachet line. Within 30 minutes of seeing the demo online at Smiths Detection facility in the UK, we decided that we had found the answer to our problems. We bought one unit within days, and three months later, we purchased two more."
All three Eagle Pack 240 X-ray units are integrated into TSC's data recording system. The units can be controlled remotely via TSC's central software system interface. As the operator changes batches, the system prompts corresponding changes on the Eagle Pack 240s.
"The service we get from Smiths Detection is first class. They will remain my first choice in product inspection systems," Barrick concludes.

Companies in this article