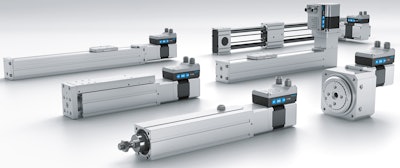 The actuators in this series are built for simple motion between two mechanical end positions. The drives offer optimized motion characteristics, including gentle cushioning, while advancing and retracting into the end positions and pressing and clamping functionality. Units in the initial release include toothed belt axis, spindle and toothed belt axis, mini slide, electric cylinder, and rotary drive.
The drives are plug and play for fast startup. No additional software or specific know-how is required. The parameters for advancing and retracting speed, as well as pressing and clamping force, are set directly on the drive. End position, cushioning path, and manual operation are also set on the drive.
Each drive in this series is controlled via Digital I/O. End position feedback, which is similar to feedback from a standard proximity sensor, provides information about the completion of the motion task. IO-Link enables remote control, parameter copy, backup function, and read functions for process parameters.
"For those machines and lab instrumentation where compressed air for pneumatics is simply not feasible, the Simplified Motion Series provides a cost effective, easy to apply, and well-featured electric solution," said Sandro Quintero, Product Manager – Electric Automation, Festo.