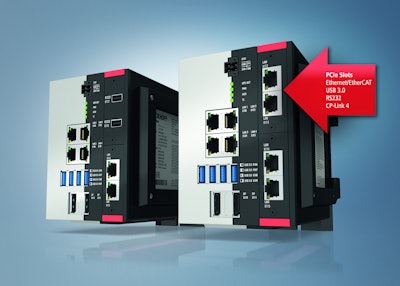 A high-performance device in a modular design, the C6032 adds two slots for PCIe Compact modules to the C6030 single-board IPC, which is comparable in terms of computing power, to accommodate modular interfaces and functional extensions. With the use of compact PCIe modules, the C6032 can be optimally adapted to the unique requirements of individual applications.
Equipped with powerful Intel® Core™ i processors of the 6th and 7th generation – up to the Core™ i7 with four 3.6 GHz cores – the C6032 is ideal to support extensive multi-axis motion control, complex HMI applications, extremely short cycle times and handling of large data volumes. The compact motherboard and the die-cast zinc and robust aluminum housing were newly developed according to the high standards Beckhoff is known for – such as industrial-grade assembly, Made in Germany quality, high reliability and a premium look and feel. Other features include the exceptionally compact design typical of the ultra-compact C60xx IPC series and the flexible installation options with vertical or horizontal mounting at the rear of the enclosure – and a totally free orientation of the connection area.
High flexibility through PCIe modules
The C6032 features two PCIe compact module slots that enable flexible expansion of the connection area on the front of the device. The first available PCIe modules are the following:
• 2 x Gbit Ethernet
• 2 x USB 3.0
• 2 x RS232
• 1 x CP-Link 4 (for connection to Beckhoff industrial displays)
The use of an extremely durable, speed-monitored and controlled fan makes the C6032 suitable for an operating temperature range of up to 55 degrees Celsius. Available options include Windows 7 or Windows 10 operating systems as well as a second M.2 SSD in RAID configuration. The C6032 also offers storage capacity of 40 GB M.2 SSD, 3D flash even in the basic configuration.
A device generation designed for universal use
The Microsoft Azure™-certified devices in the ultra-compact C60xx IPC series are ideal to meet current requirements in machine building, such as increasing modularity, reduced space requirements in control cabinets and increased computing power at an affordable price point. Designed exactly with all these requirements in mind, the new device generation is suitable for use in a broad range of application scenarios, including distributed architectures and current Internet of Things (IoT) or Industrie 4.0 concepts. The exact computing power is flexibly scalable to suit nearly all medium to high-end machine performance levels:
• C6015 and C6017 for medium performance requirements with Intel® Atom™ CPUs (up to four cores)
• C6030 and C6032 as high-end devices with Core™ i processors with up to 3.9 GHz per core (for dual core processors)
Companies in this article