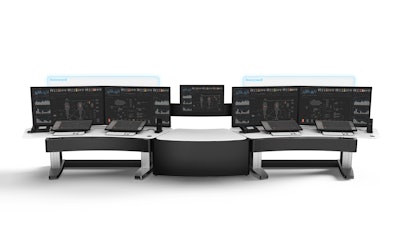 Honeywell Process Solutions (HPS) launched its newest version of Experion® Process Knowledge System (PKS) Orion, featuring advanced Industrial Internet of Things capabilities. The new solution will help industrial plants further optimize automation project execution, reduce loop commissioning time, minimize operational risk and protect intellectual investments while keeping current with today's technology.
In a competitive environment, industrial firms must find ways to implement new automation solutions quickly, efficiently, securely and cost-effectively. Experion PKS Orion now employs an expanded portfolio of solutions for improving project execution and commissioning, modernizing control system infrastructure, expanding standards compliance and interoperability, and providing a path for continuous technology evolution.
The new Experion PKS Orion release further optimizes LEAP™ project execution in an advanced, open and secure control system. Key enhancements, such as automated device commissioning improve engineering efficiency, while keeping automation systems off the critical path.
Experion PKS Orion's major enhancements include:
• Automated device commissioning: Essential to LEAP project execution, auto device commissioning automatically binds control configuration engineered in Honeywell's secure cloud with field devices connected to any Universal I/O (UIO) channel, reducing loop commissioning time from hours to minutes.
• Integration of electrical systems with process control: Experion PKS Orion is the first distributed control system to be used for electrical system control and management, including support for IEC 61850 electrical management.
• Multivariable APC in the controller: Experion Profit Controller moves multivariable predictive control out of the Microsoft operating system and into the Experion Control Execution Environment (CEE), to run directly in the C300 controller and Application Control Environment (ACE) node.
• Support of all wireless standards, including WirelessHART®: The latest Experion PKS Orion release offers enhancements to its OneWireless™ Network. The updates provides a unique solutions to support ISA 100 Wilreless, WirelessHART and Wi-Fi on a single wireless network.
• Next-generation Virtualization Premium Platform with fault tolerance: Fault tolerance is a highlight of the Experion PKS virtualization environment and a crucial aspect of LEAP. It optimizes high-availability technology by providing continuous protection for Virtual Machines (VMs) in case of a host failure.
• Superior IIoT-Ready PLC Solution: Experion PKS Orion further supports Honeywell's IIoT-ready initiative by leveraging a common HMI plus LEAP™ project execution for Honeywell's new ControlEdge™ PLC. This provides a superior solution with secure connectivity and tight integration to devices from multiple vendors—resulting in easy configuration, efficient operations, and reduced maintenance.
• Automated third-party skid integration via SCADA: Automated skid integration applies our LEAP lean automation project solution to PLC integration. Enhanced third-party integration capabilities require less effort to validate Supervisory Control and Data Acquisition (SCADA) Interfaces—reducing rework and retesting when a package program is modified, lessening schedule risk for late changes, and eliminating misalignment of configuration.
Other Experion PKS Orion release features include: Universal Remote Modular Cabinets, safety critical alarms, C300 controller and ACE updates, optimized UIO-II modules, improved wireless access and identity management, enhanced Profibus® data collection, new Ethernet Interface Module (EIM) technology, support of Ethernet IP, upgraded SCADA/Remote Terminal Unit (RTU) integration, and expanded on-process migration solutions.
Companies in this article