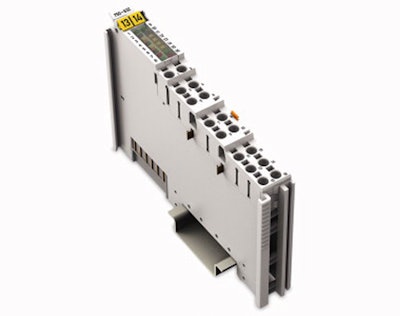 Just 12 mm wide, the compact 750-632 Proportional Valve Module offers a high-performance solution with flexible valve control operation modes.
Two single-coil valves or one dual-coil valve can be controlled either uni- or bi-directionally. For each channel or coil, the output current is 2A in 1-channel operation and 1.6A in 2-channel operation. In connection with a lower set point/actual value deviation, both small and large valves can be controlled reliably and with high repeatability.
The 750-632 features two current-controlled pulse-width modulation outputs (24V) with adjustable dither. Discrete dither frequency setting minimizes the motion, which is adjusted to the valve around the rest position, allowing the set point to be defined without considering static friction. This also prevents the valve from being stuck due to medium residues. Set point definition can be adjusted to the application via both scaling and configurable up/down ramps.
Characteristic curve adaptations, such as zero offset, dual gain compensation or range limitations, can be adjusted via parameters. Two additional digital inputs directly connect to sensors or switches and are configurable for multiple functions, including JOG, TRIP, HOLD, etc. Start-up and valve parameter adjustments are easily configured with WAGO-I/O-CHECK software or program code.
The Proportional Valve Module can operate via any popular fieldbus (e.g., MODBUS TCP, EtherNet I/P, CAN or PROFIBUS) and offers reliable CAGE CLAMP® connection technology. Ideal for heavy equipment that uses high-pressure pneumatic or hydraulic valves, the 750-632 can be utilized across a variety of industries, including mining, oil and gas, heavy mobile equipment and metal forming.
Companies in this article