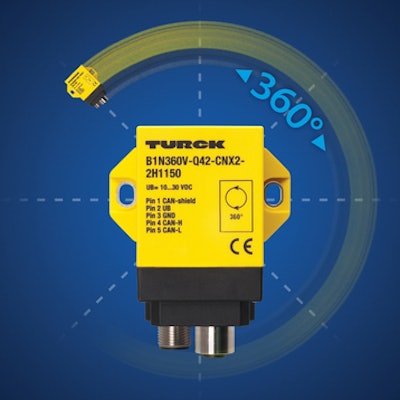 The single axis inclinometer provides extended application flexibility, allowing operators to easily monitor mechanical arms, such as tensioners or moving components. Its CANopen communications also makes it suitable for mobile equipment, such as monitoring and reporting position of outriggers, booms or other vertically rotating parts.
The single axis inclinometer measures angular tilt in reference to gravity. The MEMS (micro-electro-mechanical system) devices used in the inclinometer incorporate micro-electromechanical capacitive elements into the sensor that utilize two parallel plate electrodes, one stationary and one attached to a spring-mass system. Movement causes acceleration that produces deflection in the non-stationary electrodes. This results in a measurable change in the capacitance between the two plates that is proportional to the angle of deflection. All measured values and parameters are accessible via the object directory. The micro board design in the MEMS technology allows for a compact, precise inclinometer in a very robust, industrialized package.
Single axis inclinometers offer rugged, IP68-rated housing and reliable operation in temperatures ranging from -40 to +70°C.
Companies in this article