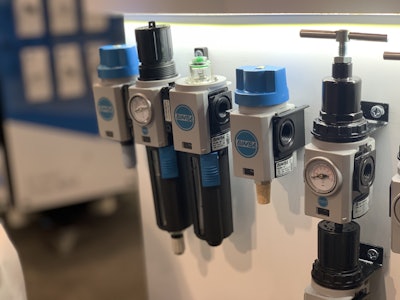 During PACK EXPO Las Vegas, Bimba debuted the newest additions to its Air Preparation Equipment line. The company y offers two lines of AIROS Air Preparation Equipment: its legacy MG (Formerly MFD) series and the new PG series.
The new PG series accommodates a wider range of applications and the safety-oriented designs improve operator protections. The series also boasts a smaller footprint for applications in together spaces as well as vapor removal filters for clean applications. Another prominent feature: a micro fog lubricator that works across longer distances, complex flow patterns, and multiple lubricated pieces in a circuit.
Both the MG and PG series now include filters, regulators, lubricators, combination units, and soft start valves.
Companies in this article