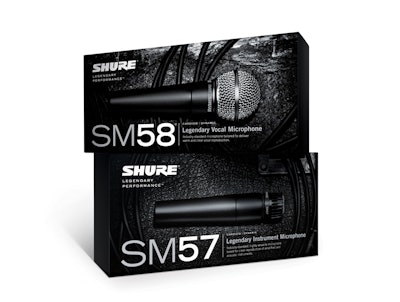 Coming off such success—and also record sales in 2008 for some models in its SM line—why would the Niles, IL-based microphone manufacturer want to invest in new packaging? Foremost, to simplify the product-purchase decision in stores. But Shure also took the opportunity to tell the brand's story and gain economies of scale in the packaging materials.
Shure, working with design agency MiresBall (www.miresball.com), centered the refresh of the SM brand on the tagline "Legendary Performance." Imagery on the carton's outer graphics sleeve, made of SBS board, brings the brand to life on all four sides by displaying the SM microphones in their natural setting. The microphones were photographed resting on scratched and weathered stages, amplifiers, and instrument cases.
"It speaks to what Shure products have been about for 84 years: Quality and performance are paramount," says Peter Herr, Shure's manager of integrated marketing.
Packaging cements the bond between product and shopper at retail guitar centers and other specialty stores, Herr explains. The SM 58 microphone, for example, is a mid-tier standard microphone retailing at about $99. "Veteran musicians trust it, and Johnny Guitar aspires to it," he says. The new design features a black-and-gray background to present the product as a "working man's" microphone, with a gritty, tried-and-true look and feel, Herr says.
Sleeve labels for the SM 57 and SM 58 are printed by General Converting (www.generalconverting.com) in four-color process plus two spot blacks—one to enhance the black background.
Shure also used the brand refresh to improve packaging economies for the SM line. The brand dropped its former two-piece "shoebox" in favor of a one-piece corrugate carton, from PCA (www.packagingcorp.com) to hold the microphones. The sleeve slides over the carton to help keep it closed.