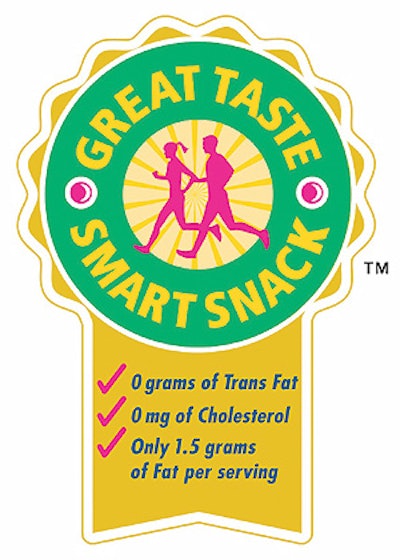 The federal government has been pressuring the food industry for some time to improve the nutrition profile of its foods, and that effort has already led to some interesting packaging developments. Now, with the Food and Drug Administra-tion (FDA) in the midst of revamping its "health claims" approval system, a packaging revolution may be at hand.
The FDA's Consumer Health Information for Better Nutrition initiative announced this summer opens the door for companies to make various levels of health claims on food packages—many that could not be made before—based on the level of scientific justification for the claim. FDA Commissioner Mark B. McClellan says the initiative will "better protect consumers from making uninformed or misinformed choices about their diet and nutrition by giving consumers better information about the health consequences of those choices."
But even before the FDA liberalization got under way officially in September, companies were already coming up with creative packaging responses to public concerns over obesity. That concern was fanned by a 2001 report from the U.S. Surgeon General that said the United States was suffering an epidemic of obesity that annually kills about 300ꯠ Americans and costs more than $100 billion a year.
A more important development than the report, perhaps, was that in its wake plaintiffs' attorneys began to file lawsuits against companies such as McDonald's, Oak Brook, IL, and Kraft, Inc., Northfield, IL, arguing that their products—Oreo cookies in the case of Kraft—were harming the health of consumers. The Kraft suit was subsequently dropped. But just the act of the trial lawyers flexing their briefs has forced companies to look for ways to improve the content, image—and promotion—of their products.
This pressure has spurred packaging innovations. In August, for example, Pepsico's Frito-Lay, Plano, TX, introduced a new Smart Snack ribbon label (above) on some of its snack products, including its Baked! brands. The label highlights what the company views as the products' favorable nutrition profile based on criteria developed by Kenneth Cooper, M.D., M.P.H., billed by Frito-Lay as one of the world's foremost experts on health, nutrition, and exercise. Cooper is founder of the Cooper Aerobics Center.
In a way, the Smart Snack ribbon seems like an end-run around the FDA. Frito-Lay uses the term Smart Snack in the sense of "healthful snack." At least that is the impression the label conveys. It is not clear—and therefore up to the consumer—to determine whether the "Smart" label means the food itself is nutritious or that it is more nutritious when compared to another snack of a similar sort. But an FDA official states that the Smart Snack ribbon does not appear to run afoul of FDA labeling rules.
"The obesity epidemic has spurred Americans to take action and embrace proper nutrition and physical activity," said Dr. Cooper. "I'm delighted to partner with Frito-Lay to help them develop more healthful snacks and to promote fitness and wellness."
Enter the lawyers
Obesity has spurred lawyers, too. With tobacco companies no longer serving as potential targets, trial lawyers have cast their covetous eyes on the food industry. So far, there have been a number of high-profile lawsuits against food companies concerning fat intake and obesity. On September 4, U.S. District Judge Robert Sweet ruled against plaintiffs suing McDonald's for a final, second time. Initially, he had allowed them to refile the case if they could substantiate claims of deceptive advertising, rather than claims of unhealthy food leading to consumer "injury."
When he dismissed the first case last January, Sweet referred to Chicken McNuggets as a "McFrankenstein creation" made of elements not used in home cooking. He said the plaintiffs could amend the suit with information backing their claim that diners have no idea what is really in their food or that the products have allegedly become more harmful because of processing.
Although the plaintiffs' lawyer initially refiled the suit with the allegation that consumers were unaware of the health hazards of processed food, he dropped the claim in June. The new filing and Sweet's September 4 decision thus focused primarily on deceptive advertising claims. But Sweet's decision also precludes plaintiffs from developing the case surrounding the harmfulness of processed foods in the future.
Protection ahead?
However, new lawsuits against food companies will assuredly be filed; and unusual claims, even about packaging and label copy, can be expected. That is why more than 70 members of the U.S. House of Representatives have introduced a bill (H.R. 339) that would give food processors immunity in both state and federal court from charges of product-related health damage as long as the food, at the time of sale, was in compliance with applicable statutory and regulatory requirements. A House Judiciary subcommittee held hearings on the bill in June, so the legislation could move at any time.
Of course public interest groups and trial lawyers oppose the bill. John Banzhaf, a crusading public interest professor at George Washington University Law School who helped kick off the tobacco litigation crusade, told the House subcommittee last summer that Congress should let obesity lawsuits play out, or pass legislation requiring additional labeling of foods instead of protecting food companies from lawsuits.
One of Banzhaf's suggestions was that companies who market products like Mighty Kids Meals and Lunchables provide information about fat and calorie content not only in terms of adult nutrition requirements, but also in terms of the vastly lower requirements for young children.
Changes for Lunchables?
Kraft makes Lunchables and has added a Lunchables Fun Fuel line that is said to include more healthful components. But the packaging for Fun Fuel is similar to the rest of the Lunchables products. That may be changing, though. Kraft plans to reconsider its products and packaging along a much broader front.
The company announced in September the formation of its Obesity Advisory Council that will make recommendations on how to implement the general commitments the company issued in July. One of those was setting a limit on the portion size of single-serve packages. Donna Sitkiewicz, a spokeswoman for Kraft, says it's too early to tell how product packaging will be affected by factors such as the downsizing of portions.
The FDA initiative doesn't anticipate companies like Kraft changing their serving sizes in order to qualify for making a health claim. FDA has designated three "qualified" B, C, or D health claims that will be available, each followed by some sort of disclaimer.
So a B disclaimer would state the evidence is not conclusive; a C claim would indicate the evidence is limited and not conclusive; and a D claim would have to state that there is little scientific evidence to support the claim.
Sebastian Cianci, an FDA spokesman, says companies would not use the letters B, C, or D on their packages. But the FDA is testing a variety of "grading systems" that may be imposed in the future. Companies could still earn the right to use a "unqualified" health claim—the A equivalent, backed by conclusive evidence—too, of course.
The Grocery Manufacturers of America (GMA) is pleased with the FDA's willingness to approve less than 100% scientifically backed health claims. But the association doesn't like the agency's requirement that companies approved for B, C, and D claims use FDA-predetermined language with regard to those claims on the package.
GMA Director of Scientific and Nutrition Policy Alison Kretser, says, "Food manufacturers have extensive expertise in communicating with consumers, and GMA urges FDA to leverage industry knowledge to craft the best language for each qualified health claim."