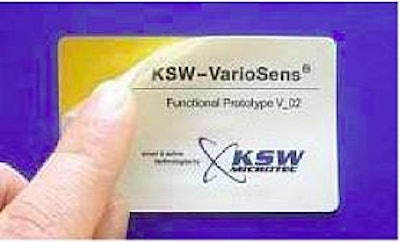 The development will extend KSW Microtec's Smart Active Label (SAL) expertise—it has had available for about two years a high-frequency version, TempSens[rm]. Eitan Avni, KSW Microtec's director of business development, says the earlier generation HF product has been used in Japan, Australia and the United States.
Avni expects to have the Gen 2 UHF VarioSens[rm] devices available by early 2007 and says that they already have a commitment from a "major global retailer." The devices will initially be priced at around $10 each; however, Avni believes the sensor cards can be priced as low as $4-$5 each in orders of 100ꯠ units. He also points out that they can be reusable.
Avni emphasizes that VarioSens is more than just an RFID and a sensor combined. "It's whole layers of capability and security."
The device's stored data can be accessed wirelessly and programmed using available standards (ISO 15693) rather than the proprietary protocols and custom software as some data loggers do, Avni explains. He also notes that data loggers are used within closed-loop systems, while VarioSens functions in a secure, yet open-loop environment.
A secure, standards-based, open loop system
"At the packaging company, the distribution center, and the retail store, they can all use different readers with the same protocols to access the data," Avni explains.
Avni is confident about the device's three-levels of password-protected security. "VarioSens is really a 'moving database' of information with an RF interface; without the password-protected security, there's no guarantee that the data is reliable."
The layers permit, for example, a quality control manager to permit specific links in the supply chain to write or read data. Readers can be handheld, portals, or desktop technology.
Operating features
Available as a credit-card-like "semi-flexible" plastic form factor, VarioSens has a range of –15°C to 50°C and is accurate within 1°C. It records up to 720 temperature values at intervals of 2 seconds to nine hours and has a timed activation delay of 0 to 720 days;
additional sensors such as for shock or humidity will also be available. It can be programmed so that only values outside a specified range are recorded.
Improvements over its earlier generation technology include 8k-Bit EEPROM memory that retains the data even if the battery, which uses printed technology, fails. According to Avni, the printed battery is manufactured by KSW under license from Power Paper and has a life of
12 to 18 months. A command in the tag permits the user to check the battery life to see if it can be reused.
Cryovac-Sealed Air's TurboTag to debut
Last week at the Smart Labels USA Conference, the Cryovac division of Sealed Air Corp. announced the forthcoming introduction of its TurboTag[tm] product line for RFID temperature monitoring based on VarioSens technology. The company said that TurboTag demo kits will be ready in April with a complete line of products available in July. More information is available at a new Web site, Turbo-Tag.com.
Companies in this article