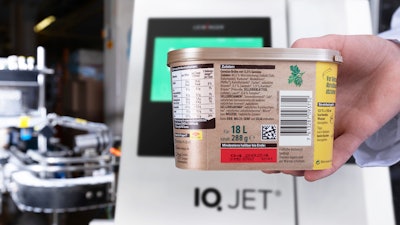 Maggi GmbH, a subsidiary of Nestlé Deutschland AG, is famous throughout Europe for its namesake liquid seasoning. But consumers may not know that the company also manufactures a wide variety of convenience food products including packaged soups, pastas, sauces, and broths. In this high-volume production facility, 40 million bottles of Maggi seasoning and 30 million cans of ravioli are produced annually. About 120 employees work in two or three shifts in the Maggi Packaging Division, where safety, product quality, and efficiency are top priorities, the company says.
The sheer volume and variety of SKUs on multiple different packaging lines creates complexity in coding and marking, and leadership has recognized that busy, multi-tasking operators stand to benefit from simplified, accurate marking operations. For instance, on a packaging line where vegetable broth is packed into 288-g containers, one employee is responsible for refilling the containers and lids, checking weights, and coding and marking. This range of tasks underscores the importance of a reliable coding marking system. After all, speeds are impressive—70 containers/min are packed on that line, and marked with the best-before date and production data at speed.
"The marking has to run flawlessly. Otherwise there are real problems," says Simon Keller, Technical Group Leader, Packaging Deli/Tainer, at Maggi.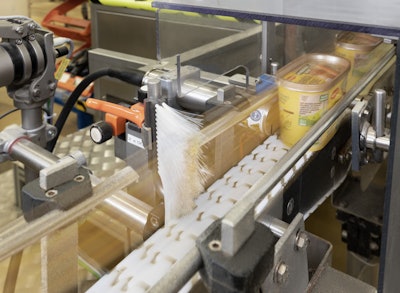 For these reasons, Maggi has chosen to standardize on Leibinger systems for coding and marking its packaging. Fifty systems are currently in use at the site, including the most recent edition—the latest generation IQJET. With this new generation of coding and marking equipment, the OEM is focusing on sustainability both in power and in consumable usage, on maximum reliability, and on savings in operating costs. Leibinger unveiled this smart new IQJET coding and marking system at interpack in May 2023, and Packaging World was there to catch the big reveal. There, the company announced to media that the IQJET provides plug-and-print performance and maximum availability, without any production downtime. Leibinger spokespeople add that the system requires no maintenance during its first five years, promises lower operating costs to users, and adds sustainability bona fides. But the proof would be in the pudding for real, in-market applications. It turns out that, to operators, the beauty is that it just works, accurately, without much need for supervision or cleaning.
"We plugged in the IQJET and it immediately started running. Flawlessly," Keller says. "It needs virtually no operator intervention while running. Cleaning is unnecessary. And changing the ink cartridges is easier than ever."
When not in use, the IQJET system automatically seals its print nozzle to 100% airtight, while allowing the ink to continue circulating. This prevents ink from drying and clogging. When the IQJET is switched on, it starts running again immediately. To ensure consistently high print quality, regardless of ambient conditions, IQJET permanently regulates ink temperature and viscosity.
The inks used in the Maggi plant are certified for use in the food sector in terms of health, safety, and product quality as well as legibility and adhesion. Should a fault occur, the IQJET immediately identifies it, communicates with the packaging equipment to stop it, and informs the operator, preventing costly rejects with misprints or mistakes.
Innovative take on CIJ eliminates need to clean
Continuous inkjet (CIJ) printers are the most common coding and marking systems for printing variable data, such as best-before dates, coding, or serial numbers. Also known as small typeface printers, CIJ's main advantage is their flexibility—these CIJ printers are suitable for contactless printing on almost all surfaces, shapes, and materials. Integration is simple, operation is safe for people and the environment, and no protective devices are necessary. The inks are fast drying and suitable for almost all production environments and applications.
But a disadvantage of conventional CIJ printers—one well-known to the market—is that they need regular cleaning, potentially as frequently as at every start-up, and the production line must be stopped whenever this happens. This occurs because the ink in the systems dries up when they are not in use, clogging the lines. Downtime and an unsightly print image after start-up are the result.
This is not so with Leibinger CIJ marking systems. "A Leibinger CIJ does not require any cleaning routines. The technology behind it is completely different", says Christophe Lopez, CCO of Leibinger and 20-year coding and marking veteran. He's referring to the aforementioned automated nozzle sealing technology. Whenever the printer is not in operation, ink is sealed in a an airtight circuit, and the ink continues to circulate within, meaning no ink blockages, drying, cleaning, or expensive downtime.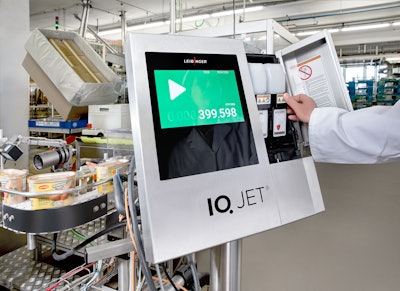 "This technology is unique on the market. Airtight and completely automatic pressure nozzle sealing, that's something available only from Leibinger," adds Lopez.
The printer starts running immediately when its switched back on after a hiatus. To deliver consistently high print quality regardless of the ambient conditions, the new Leibinger IQJET also controls the ink temperature and viscosity continuously.
Consumable consumption cut in half
Another advantage of airtight nozzle-sealing technology, beyond avoiding those clogs, is that no solvent is consumed during printing pauses. Also, the IQJET collects solvent that evaporates during operation and feeds it back into the system. This enables the IQJET to consume up to 50% less than conventional CIJ systems on the market.
For example, the IQJET uses 2.7 mL solvent/hour. Other systems that do not have solvent recovery consume between 6 and 10 mL of solvent/hour. Calculated on a three-shift operation working a total of 6,000 hours a year, with hourly usage of 10 mL of solvent/hour on other competitive equipment, this translates into an annual solvent saving of 43,800 mL (43.8 L).
Completely using up cartridges to consequently avoid waste should be automatic, Leibinger says, but it's advice that's not yet heeded by the marking market. Coding and marking systems frequently require new cartridges even when those installed are still 10% full—a preventable form of consumption that has a negative impact on both the environment and the bottom line. In comparison, the cartridges of the IQJET printer empty right down to the very last drop and can then be taken straight to recycling. Moreover, because Leibinger cartridges are made of a mono-material polyethylene, they are also easy to recycle in curbside streams.
Leibinger says the IQJET is a pioneer in terms of power consumption of just 36 watts, making it the most energy-efficient printer on the market. The company also says it's setting a new standard with its IQJET in its integration into plug-and-print production operations. This is achieved with numerous interfaces, including OPC UA protocol and an integrated PLC. With its 10.1-inch touch-screen HMI display and intuitive drag-and-drop operation, this system is as easy to operate as any familiar smart device, like your smart phone.
"With the IQJET, integration could not have been any easier. And virtually no interventions are required during operation," Keller says. "Any manufacturer who values outstanding efficiency and reliability will greatly benefit from the IQJET. Here at Maggi, we also appreciate the fact that our employees now have more time to focus on the essentials such as safety and product quality." PW
Companies in this article