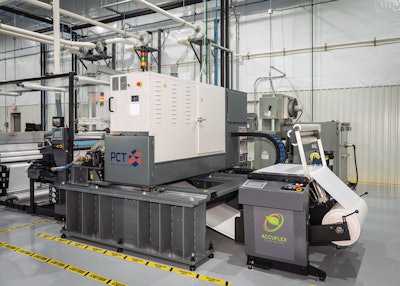 In 1980, at the tender age of 25, Tom O'Brien launched a commercial printing firm in North Carolina called AccuLink. Partly because the business was an early and eager adopter of digital printing technologies, it grew and prospered. But by 2014 AccuLink, like most commercial printers, was in serious decline, their business eroded by various online platforms that reduced the need for direct mail, posters, brochures, and other printed products on which commercial printers had long depended.
AccuLink was rescued in 2015 when it reinvented itself by becoming a fulfillment house for digitally printed web-to-print items: coffee mugs, mouse pads, personalized cards, blankets, Christmas ornaments, and so on. By this time O'Brien had plenty of digital printing systems from HP Indigo, but none of his business activity had anything to do with packaging. Not that he didn't want it to. "By 2019 I knew I was missing out by not being involved in packaging, and I wanted to be in it so bad I couldn't see straight," he recalls. "But I just didn't have any experience in packaging, which I felt was absolutely essential. So I chose to say no."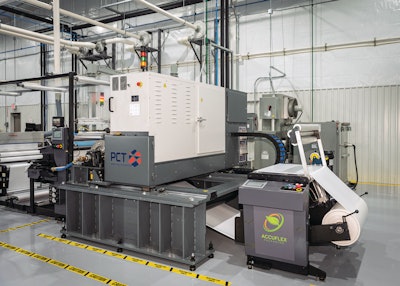 Then he was introduced to Tim Mages, a 30-year veteran in flexible packaging who had recently parted ways with a previous employer and was looking for a new opportunity. Mages and O'Brien quickly became convinced that, together, they could break into the ever-so-promising field of digitally printed packaging. By 2019 they began issuing purchase orders for the following equipment:
• an HP Indigo 20000 roll-fed digital press
• a Suncentre slitter
• a Suncentre pouch-making machine
• an electron-beam coating and laminating system
• a Suncentre spout inserter
In 2020, just two weeks after officially launching AccuFlex Packaging, they were winning awards for the digitally printed pouches they were producing.
AccuFlex Packaging is built around HP Indigo's 20000 roll-fed digital press. Capable of handling media thicknesses from 10 to 250 microns and web widths to 30 inches at speeds to 19,500 sq ft/hr in four-color mode, it produces print quality that rivals offset and gravure. And because it's a digital press that requires no printing plates, it opens up numerous opportunities for short-run quick-change production.
Oftentimes the substrates being converted at AccuFlex are designed with sustainability in mind. "Right from the start we really wanted to do compostable packaging," says O'Brien. Which is why the firm brings in a steady supply of Futamura NatureFlex™ cellulose film. Actually they buy it from S-One Labels and Packaging, which buys it in volume from Futamura and remarkets it as Re-Earth. This arrangement works well for AccuFlex because if on Monday they need two rolls of Futamura metallized compostable film, they can get it on Tuesday or Wednesday from an S-One warehouse in Atlanta. "It means I don't have to inventory a lot of material myself," says O'Brien.
The advantages of e-beam
Also notable in the newly constructed 13,500-sq-ft food packaging manufacturing site adjacent to the AccuLink facility is the electron beam coating and laminating system. It's one of several strategic investments in machines, methods, and materials that O'Brien opted for as a way of scoring sustainable packaging points in a marketplace where being perceived as green seems more important every day. As AccuFlex President Tim Mages explains, by using e-beam as opposed to more conventional thermal or solventless laminations, an entire plastic substrate can easily be eliminated from the kind of three-layer lamination that is ubiquitous today.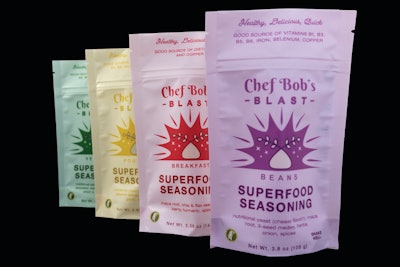 "What you see typically today for numerous applications," says Mages, "are three-layer laminations. The outside layer is reverse-printed polyester, and then adhesive laminated to it is a metallized polyester that traps the printing. The third layer is a sealant layer. With e-beam in place, we can purchase a two-layer lamination of metallized PET and 3.5-mil metallocene LLDPE. We surface print this prelaminated structure, run it through the e-beam coater, and go straight to pouch-making. Not only do we eliminate the time needed for curing that would be necessary if we were doing solventless laminating, but we also eliminate one whole layer of polyester."
The one application where e-beam lamination, as opposed to e-beam coating, is called for is when a customer wants a soft matte finish. "Today, you just can't get the soft matte effect you want from a coating," says Mages. "So in this case we purchase a soft matte polyester or OPP, reverse print it on the 20000, and e-beam laminate it to the sealant layer."
An e-beam coating system relies on radiation curing, just like UV curing systems. But it uses electron beams as opposed to UV light. The e-beam system at AccuFlex emerged from a partnership of S-One, Custom Design Applications, and PCT Ebeam and Integration. S-One now offers the technology to the marketplace as an integrated system called CatPak. Tom Hauenstein, Global Sales Director at S-One, explains how this came about.
"The pouch-making business is changing to a model that needs to emphasize quick turnaround and greater sustainability. If a converter can buy from us a 'pre-lam' of metallized NatureFlex and sealant layer, they don't have to reverse print polyester and then thermal laminate a layer of metallized polyester plus thermal laminate a sealant layer. Nor do they have to build in curing time of 24 to 48 hours before shipping thermally laminated material to their customers. They can surface print our pre-lam, e-beam coat it, and go straight to pouch-making in the same day. Recognizing nearly three years ago that this new model was beginning to establish itself, we wanted to become a source that would let converters buy from one turnkey provider an integrated system including not only an e-beam curing system from PCT but also the unwind, secondary unwind, and rewind station, and even a flexo deck if need be. And from that same turnkey source they would also buy the NatureFlex rollstock."
Compostability a key goal
Another strategy adopted by AccuFlex to shore up its sustainable bona fides is its use not only of compostable films but of bio-based reclosable zippers. While the rollstock comes from Futamura, the bio-based reclosable zipper material comes from Elplast. According to S-One's Hauenstein, dealing with these bio-based materials has its own set of challenges. Not only are there a variety of bio-based sealant layers to pick from—PLA, PBS, PBSA, Ecovio—you also have to pick the right compostable certified adhesive to marry the NatureFlex to the bio-based sealant layer.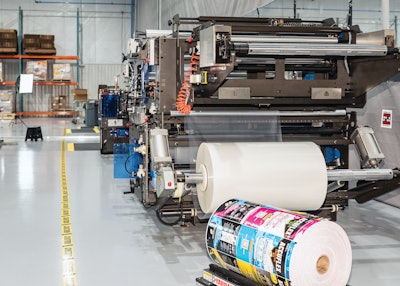 "Everyone's gotten very efficient when it comes to laminating polyester to a linear low density polyethylene sealant layer," says Hauenstein. "But it's a labor of love sorting through the compatibility of all these new bio-based materials. And we have to test the finished structures if we want to certify them as being truly compostable. That might involve $15,000 and 90 days of evaluation.
"Some bio-based sealant layers are really strong and stretchy. So if you're doing a vertical form/fill/seal package and you're dropping in potatoes or something heavy, that would be what you want. But other bio-based sealants are more brittle and rigid, and those hold up better in a standup pouch because they actually help the sidewalls of the pouch stand up. Moisture resistance, too, is an issue, so if the package's contents are moist that has to be taken into account. We really have to hold the customers' hands a bit and understand clearly what each application involves."
Bio-based zippers, says Hauenstein, are another whole can of worms. "If the bio-based sealant layer is, let's say, PBSA and the bio-based zipper is made of BASF's Ecovio—which is a mix of a couple of different bio-based materials—what temperature do I use to marry the zipper to the pouch? Bio-based sealants typically seal at lower temperatures than the tried-and-true linear low density polyethylene. So speed and tooling design and temperature settings on your pouch-making enter the picture in a critical way. Believe me, it's tricky."
Unique decorative effects
Which brings us to AccuLink's use of Color-Logic software, a metallic color communication system for creating decorative effects on metallized substrates. "I create a file in Color-Logic and send it to the Digital Front End of the HP Indigo 20000," says O'Brien. "The DFE pushes it through the RIP [Raster Image Processor], which basically then tells the press what dots to put down, where to put them, and whether to lay them on top of each other or not."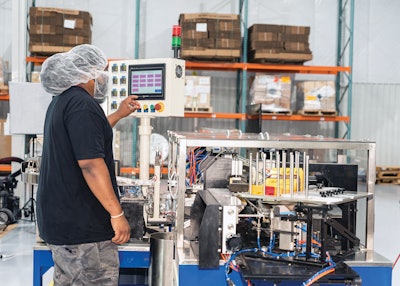 Wherever the design file calls for the metallization to be masked out, Color-Logic software tells the press to lay down opaque white. But where the design calls for metallic colors to shine through, the software tells the press to lay down cyan, magenta, or yellow picked from a swatch book that is produced off of AccuFlex's 20000 press. Which makes the swatch book AccuFlex's own unique color system.
"It's an accurate representation of substrate, inks, press condition, and the coatings found only at AccuFlex," says Color-Logic Sales and Marketing Director Mark Geeves. "So where the design calls for a red metallic color, the press deposits not only the desired color but the precise shade of that color—a CL217-S as opposed to a CL218-S." Geeves describes the metallic color system as "the most affordable system in the world for decorative effects. Only five inks are required to produce 250 metallic colors. It's that converter's own swatch book. There is no guesswork."
When asked if printing, e-beam coating, slitting, and pouch-making are all one in-line process, O'Brien says it's more like "near-line." In other words, rollstock spends some time as work-in-process (WIP) as it progresses from one converting process to another—but not much. He also says that not all material printed, coated, and slit at AccuFlex proceeds to in-house pouch-making. "Some of the material coming off the slitter goes to customers who mount it on their form/fill/seal machines," says O'Brien.
Both O'Brien and Mages are excited about what their fledgling converting company will be able to do with its unusual mix of technologies. As just one example, O'Brien points to a package now in the works that will include compostable metallized NatureFlex, a compostable zipper reclosure feature from Elplast, the metallic special effects made possible through the Color-Logic software, and a new variable-data-printing tool from HP Indigo called Collage that will make it possible to produce a run of 10,000 units where no two packages will be the same.
PACK EXPO Las Vegas and Healthcare Packaging EXPO (Sept. 27-29, Las Vegas Convention Center) will reunite the packaging and processing community, offering new products, technologies and solutions, while implementing up-to-date protocols for a safe and successful in-person event. Attendee registration is now open.
---
---
Companies in this article