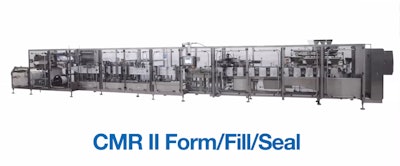 New from Cloud Packaging Solutions, the CMR II continuous-motion horizontal form/fill/seal machine can be configured for a wide range of complex filling applications. Among its features, the machine can handle pouches from 4 to 12 in. W x 6 to 15 in. H, with a gusset of zero to 5 in., operates at speeds to 140 pouches/min, is compatible with a wide variety of zipper closures, and is USDA-washdown sanitary.
Pouches are formed in duplex intermittent motion for the entire bag range, with individual compression control on each tooling post to ensure the highest quality pouch is formed. Once formed, pouches are transferred into continuous motion where they are secured on each side by grippers, after which they are filled by way of a traveling duckbill funnel that provides three times the fill time and allows for precise product filling, preventing product spillage and top seal contamination.
---
PACK EXPO Connects Records Record Numbers: At a time when a global pandemic constrains the world, PACK EXPO Connects is bringing the industry together in record numbers this week with over 17,000 attendees as of Wednesday and more registering every day. Over 700 committed exhibitors are driving the event, taking advantage of every aspect of a completely new interactive platform.
---
It's the traveling duckbill funnel that allows the CRM II to fill difficult-to-pack products because it dives into the pouch then opens to maximize the opening of the pouch and extend the filling time, which allows the machine to slow product down and meter it out. The duckbill funnels can be agitated and can also utilize baffles to assist in packaging difficult products.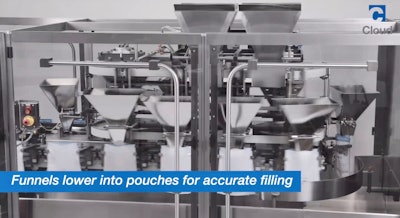 According to Kyle Scalise, Global Account Manager at Cloud Packaging Solutions, who unveiled the new machine during a live demo at PACK EXPO Connects, "Cloud developed this machine as the next generation of our existing machine, the CMR 1500. The CMR has been very successful for us over the years in all dry-flowable piece applications, especially with very large fills. It has been embraced specifically in the pet food industry where products have difficult geometries and large fills, where a traveling funnel extends the fill time, allowing more time for the product to get into the pouch.
"We developed this next-gen CMR, the CMR II, after many discussions with our customers, asking them what their pain points were. We gathered this intel and found common difficulties: changeover time from one pouch to another, difficulty of changeover, and maintaining quality operators/personnel. With that in mind, we designed a machine to eliminate the complexity of a changeover by automating as much of it as realistically possible, thus dropping the requirement for highly trained individuals needed to perform the changeover."
Automatic changeover can be completed in just 15 minutes. Shared Scalise, the tooling posts have the ability to run the whole bag range in the machine, so in the past, where you had to purchase multiple sets of tooling posts, now it is the one tooling post that ships with the machine that can run the entire pouch range."
He adds that the CMR II has the ability to run its entire bag range in duplex on the bagmaking section, eliminating the need for a timely change from duplex to simplex bag forming.
The machine also features individual compression control on each tooling post, allowing for more flexibility in the variety of films and zippers that can be used.
The CMR II is built and designed in the U.S., in Des Plaines, Ill., with all parts and service dispatched from that location.
To view demos from Cloud Packaging Solutions (available through March 31, 2021) and to add the company to your MyConnects Planner, click here.
Companies in this article