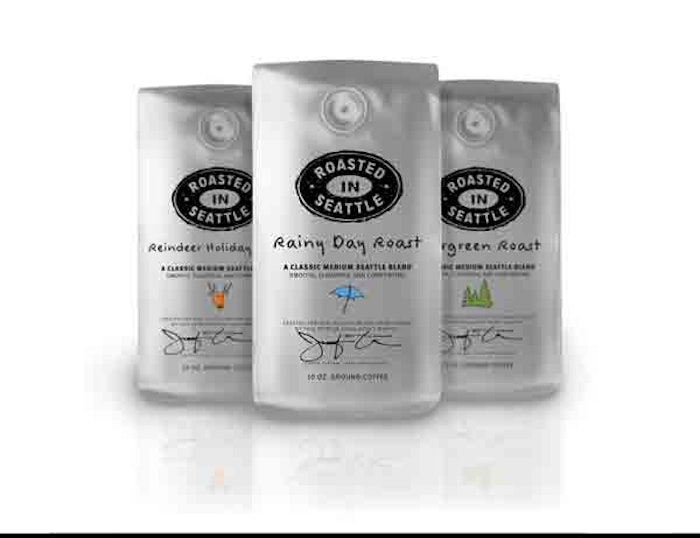 Seattle-based Made in Washington Stores (MIW) tackled these very challenges when working with Kendall Ross (www.kendallross.com) to develop new packaging for a coffee line exclusive to the chain's five outlets in western Washington State.
MIW also enlisted Caffé Appassionato (www.caffeappassionato.com), a local roaster and contract packager, to create, package, and ship small batches of different coffees that the chain markets under its exclusive Roasted in Seattle brand. MIW wanted packaging that communicates the coffee's premium value and exclusivity as a gift-giving purchase. Just as important, the package design needed to be flexible in order to economically change the text and graphics as flavor varieties are launched and then retired.
The store chain also had to be mindful of one additional factor: Design is becoming an essential visual requirement for consumers of high-end products. These shoppers are losing interest in once-exclusive brands that are becoming commoditized through overexposure.
"The new Roasted in Seattle line is off to a successful start," says Mike Mondello, MIW president. "During the critical November/December 2006 holiday period, Roasted in Seattle grew to well over 50% of the total Made in Washington coffee category sales and returned our total coffee category to growth, reversing a two-year trend."
The bags of mostly ground-coffee blends are a three-ply dull silver foil laminate construction, provided by Pacific Packaging Inc. (503/497-0150). Printing is done flexographically in black plus two custom colors on pressure-sensitive labels applied to the bags. Northwest Label & Design (www.nwlabel.com) supplies the labels.
The labels are pivotal to the success of the package, for two reasons. From a production perspective, as flavor batches come and go, only the contents on the label need to be changed, providing production economies of scale. On the marketing side, the label graphics and other visual elements signal the different roasts and give the brand its made-locally allure. These elements include an illustration and text that distinguish each flavor variety, such as an umbrella signifying Rainy Day Roast.
Companies in this article