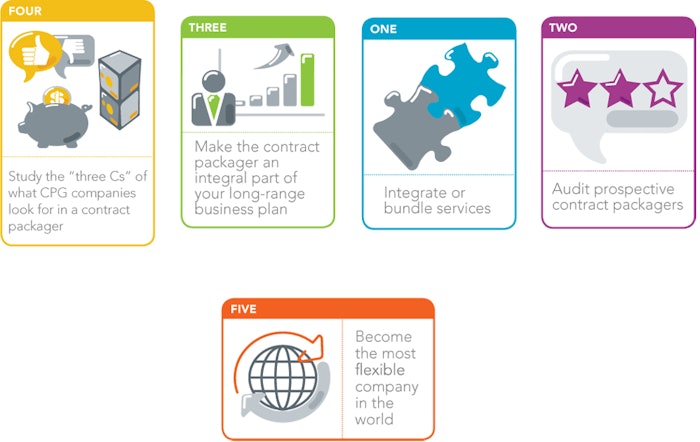 In a difficult economy, no consumer packaged goods (CPG) company can afford to waste resources. When sales head south and money is tight, every company tries to find ways in which to work smarter.
This reality is especially true for CPG companies that outsource their packaging and distribution functions and focus solely on their core competencies of product design and marketing. So, what can CPG companies do to stretch their investment dollars in contract-packaging services? And how can contract packagers provide the most cost-effective production?
On the following pages, five packaging professionals offer their ideas. These suggestions come with little or no upfront cost beyond a bit of preplanning and effort in forging a partnership between buyer and seller.
1. Integrate or bundle services, says Michael Potochar, supply manager, contract manufacturing, at Unilever U.S., a $13 billion consumer products giant in Englewood Cliffs, NJ. "There are a few different tactics that contract packagers can take," Potochar says. "First is to offer an integrated solution to CPGs relative to contract packaging solutions when approached for new business. If a co-packer not only has the ability to offer fulfillment, but also to provide package design and engineering, material sourcing, as well as logistics and distribution options, this will benefit the CPG by not requiring the company to put a large amount of resources against the project.
Cost-saving solutions
"Another suggestion would be for the co-packer to provide cost-savings solutions to new and existing customers," Potochar continues. "If a co-packer could provide suggestions and the CPG is willing to listen and act on these suggestions (such as lower cost of materials, less expensive design), this service will benefit the CPG relative to the finished cost of the product. Therefore, the cost savings will be an easy win in making the product or project more profitable."
2. Audit prospective contract packagers, advises Sterling Anthony, a packaging consultant (www.pkgconsultant.com) who has worked for Fortune 500 food, healthcare, and automotive companies, and also has taught university-level packaging courses.
"Why an audit? An audit is a metric that evaluates the solidness of the partnership between the CPG and the contract packager, and is a decision-making input regarding whether the partnership should remain as is, be revised, or be terminated," Anthony explains.
Anthony adds that such a partnership should exist on the following four tenets:
• The CPG is seeking a sustainable competitive advantage;
• The advantage depends on the design and implementation of a competitive strategy and business model;
• The supply chain management should reflect and enable the strategy and model;
• The contract packager should contribute to supply chain management by enabling the CPG company to improve responsiveness to the marketplace and achieve greater operating efficiencies.
"The audit should be performed at the contract packager's location (naturally), but after sufficient notice has been given by the CPG, so that parties can agree as to time, personnel, documents, and operations to be viewed," Anthony says.
"When this audit should be done depends on the interval since the last audit (assuming that there was one), but at least annually. Such frequency is justified, among other factors, by the ever-quickening pace of competition, consumer demands, and technology advances.  "More fundamentally, prior to auditing a contract packager, a CPG should have conducted thorough internal audits," Anthony adds. "That's because the CP, as a partner, should provide services that are complementary—that the CPG can't do as effectively or at least as cost-efficiently—thereby freeing the CPG to concentrate on its core business.
Identify core business
"Contract packaging, after all, is outsourcing," Anthony explains. "The CPG, therefore, should determine what its core business is before it can justifiably outsource. As such, a CPG should regard itself as 'competition' to the contract packager, constantly evaluating its own core competencies first, in order to determine which complementary competencies are needed in a contract packager and which contract packager is best suited to perform the job."
3. Make the contract packager an integral part of your long-range business plan, recommends Kelvin Pitts, regional operations/business development manager at Aldelano Corp. (www.aldelano.com), a contract packager in Ontario, CA. "Get the contract packager involved early, at the front end of new product development or reformulation of existing products," Pitts says.
Pitts explains that product manufacturers often ask their contract packagers to help reduce prices. When that effort fails, the costs are passed on to the consumer, he says. "We're used as firemen," Pitts laments. "We want to be the fire-prevention team. But it means the CPGs have to change their way of thinking about contract packagers and the role we play."
He says that without involvement in a CPG company's business plan development, the contract packager suffers from "a lack of ownership in the packaging project." Sometimes, he admits, the entire operation becomes fragmented between different departments at the product manufacturer level, without a focus for the contract packager to follow.
4. Study the "three Cs" of what CPG companies look for in a contract packager, urges Fred Ashenbrenner, a consultant with Packaging & Technology Integrated Solutions (www.pti-solutions.com), and a former manager for sourcing and supply at Kimberly-Clark.
The three Cs are capability—the scope of the contract packager's ability; capacity—the maximum product volume a co-packer can handle; and cost—how much a co-packer's services are going to cost a CPG company. "Available capacity is essential," Ashenbrenner notes. "Forecasting demand on the CPG's end would be nice, but it's difficult to do. The contract packagers often have to bring in additional workers to meet unexpected demands by their customers, then have to let those employees go when work commitments subside again. "Anything the CPG can do to level out that demand would help or at least give the contract packager more warning."
Assessing the three Cs with any contract packager requires that a CPG company take the time to visit the co-packer's plants, Ashenbrenner points out. He learned at a recent contract packaging conference that CPG companies too often hire co-packers without first having visited the packers' facilities. "That just rocked me," he says. "You have to do your due diligence."
Echoing remarks by Potochar at Unilever, Ashenbrenner advises contract packagers to bundle more services to sell to existing clients before taking on additional customers. "Try to do more services with your existing customer base."
5. Become the most flexible company in the world, advises John Henry, a specialist in quick-changeover approaches on packaging machinery. "The CPGs need to get their product into the market before their competitors do. So, the first thing they ask of a contract packager is, 'How soon can you start up?' The contract packager has to be flexible, and quick changeovers are certainly a part of meeting that need," Henry says. Since co-packers frequently have to handle short runs, multiple packaging formats, and fast turnaround, changeover speed is essential to maintaining volume and meeting tight deadlines.
The second question a CPG usually asks of a contract packager, Henry says, is, "Can you comply with the retailers' demands? The CPG usually says, 'As long as we both agree upon packaging specifications, I don't want to have to worry about compliance issues,'" Henry points out. And, because nearly every mass retailer has its own unique packaging compliance requirements, contract packagers are thus entrusted to make multiple packaging formats work in stores. Consequently, flexibility is key, Henry notes.
By following the advice of these five packaging experts, both CPG companies and contract packagers might operate more efficiently in a tough economic climate. Outsourcing is a viable financial decision in any market condition, but with the right planning, it can be made even more cost-effective.