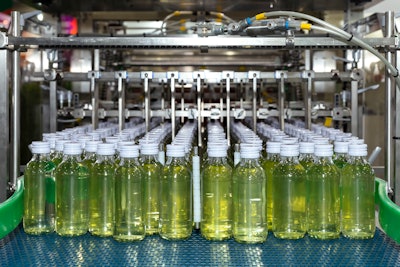 When it comes to packaging machinery, beverage manufacturers are looking for equipment that is highly flexible, according to PMMI Business Intelligence's new report "2021 Beverage Trends Driving Change." OEMs that provide diverse machines and services will be positioned to offer beverage manufacturers the solutions and technologies that will grow with them as they keep up with changing demands of the industry.
With the proliferation of new sizes, shapes, and materials, combined with the general expansion of SKUs, beverage packaging machines should be able to handle a wide range of size options with seamless changeover and machine recalibration.
New machines are incorporating digital and intuitive solutions by adding technology such as artificial intelligence (AI), machine learning, robotics, intuitive HMI/PLC inputs, smart motion components, and automated inspection. Machine operations need to be simple, with the goal of minimizing human error. In addition, next generation machines should tolerate a wide range of material strengths to account for growing variances in quality when using recycled materials, including film, paperboard, corrugated, and rigid plastic.
Processing and Filling Equipment
When interviewed, 56% of manufacturers stated they have long term plans to add additional processing machinery, and 44% indicated they intend to purchase filling equipment. Some also mentioned the need for new sterilization systems.
Processing and filling equipment for the beverage industry also requires versatility. As industry trends and consumer desires push beverage manufacturers to alter product formulations and expand into innovative offerings, processing and filling equipment should be flexible enough to grow with the diversity in production. Changes in viscosity, acidity, and fill temperatures are increasingly common, and equipment must handle these changes without compromising the quality of the product. In addition, new machines should be easy to swap from one product to another, with a focus on reducing the duration that CIP requires.
Sterilization
Sterilization is essential to the quality, safety, and shelf life of beverage products. Hot fill remains the predominant sterilization method, but beverage leaders plan to incorporate more aseptic fillers in the future. One Packaging Engineer said, "We are considering using more aseptic in the future for beverages containing sensitive ingredients in order to offer a healthier product to the consumer."
---
---
Smart Automation, Robotics, and Data Technology
When interviewed, 72% of manufacturers expressed intent to expand automated, data-driven solutions in their operations. Beverage producers are looking to automate more processes like changeover, vision inspection, and the construction of variety packs, as well as increase the amount of data they are collecting and analyzing through sensor deployment and increased integration.
Keeping pace with growing consumer demand and accommodating ever-expanding SKUs requires efficiency in predictive and preventive maintenance. In addition, an ongoing shortage of skilled labor makes automated processes and robotics technology even more important. Said one Senior Packaging Engineer, "We have tripled our use of robotics in the last five years along the entire line – labeling, capping, stacking and defect removal," while another said, "Robotics are used to reduce maintenance and increase production for packaging orientation for flexible pouches; robotics are also used for palletizers and case packers. "
Download this FREE report below.
Source: PMMI Business Intelligence, "2021 Beverage Trends Driving Change"
PACK EXPO Las Vegas and Healthcare Packaging EXPO (Sept. 27-29, Las Vegas Convention Center) will reunite the packaging and processing community. With over 1400 exhibitors, no other event in 2021 will bring together a more comprehensive gathering of suppliers offering new products, technologies and solutions. Attendee registration is now open.