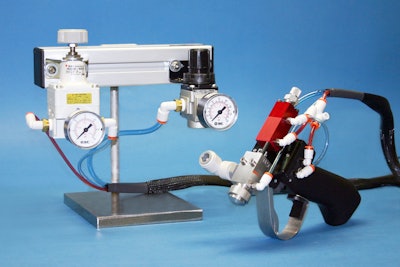 These systems are able to dispense from pressurized cartridges, bottles, and pails, making them compatible with most standard fluid packages and delivery systems. Their lightweight assembly with low trigger resistance allows hours of effortless spraying, and the easy adjustment of material flow and spray atomization results in greater dispensing accuracy with less material waste.
All wetted components of the SG-100 spray guns are stainless steel, Teflon, or Kalrez, making them compatible with a number of fluids. The fluid body is sealed, so there is no exposure to ambient conditions enabling easy shutdown and cleanup. These pneumatically operated spray guns require no electrical power.
Both SG-100 models utilize a front-closing, stainless steel needle valve to control fluid flow and have a dual-acting air cylinder that provides immediate start/stop functionality. A stroke adjustment on the valve can be used to fine tune the flow rate and a precision air regulator/gauge assembly simultaneously activates the atomizing air while the valve is opened and fluid is flowing. Both models are delivered with a round spray cap that provides a circular spray pattern, with an optional flat spray cap available if a linear or flat spray pattern is preferred.
Companies in this article