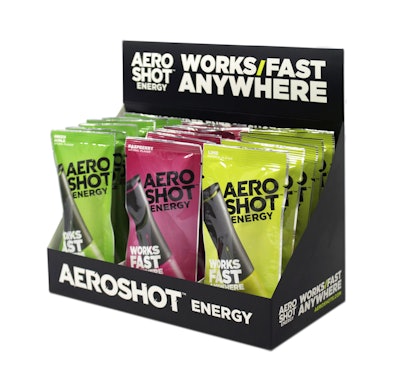 A multi billion-dollar product category defined by innovation and fueled by explosive growth, the energy product landscape is dominated by a few key players. But by employing what it believes is a transformative aerosol technology, product developer AeroDesigns, Inc., of Cambridge, MA, is hoping to change that scenery. In January, the company introduced AeroShot™ Energy, an aerosolized caffeine product that is delivered through the mouth from a lipstick-sized, single-use device.
"We felt the energy category was missing a real product experience that could meet the high demands and expectations of the 18- to 30-year-old energy consumer," relates AeroDesigns senior director of marketing Eric Freedman. "This is a consumer who is living an on-demand, 24/7 lifestyle. They are increasingly conscious of what's important to them and what goes into their bodies, and they are making choices that reflect that. They are looking for a product that is not only an expression of themselves, but also of their generation."
AeroDesigns was founded by Harvard professor Dr. David Edwards, a pioneer in the field of aerosolized medications and vaccines. He developed the AeroShot product in a particle size "small enough to travel through the air and fall into the mouth where it dissolves rapidly, but large enough so that it does not go into the lungs," explains Freedman. Each single-serve device holds 100 mg of caffeine, a mixture of B vitamins, sweeteners, and one of three natural flavorings—lime, green apple, or raspberry.
The proprietary, patented delivery device is a two-component system constructed of rigid plastic. The cap, brightly colored according to flavor variety, holds the aerosolized caffeine product, while the grey-colored body acts as the mouthpiece. As Freedman explains, when the customer slides the cap up, it creates a passageway between the cap and mouthpiece. "The consumer puts their lips over the mouthpiece, and lightly draws the product in through two slits on the end of the device that deflect the powder to the side of the mouth," he says. The 300 mg of powder contained in the cap provide enough servings for four to six "draws," depending on how light or hard the consumer draws in the product.
Lightweight, convenient, and portable—it measures just 6 cm long by 2 cm wide—AeroShot Energy is advertised as working fast anywhere. "It can be kept in your pocket throughout the day, and it is very efficient, there are no calories to fill you up," says Freedman. "There is no liquid to slow you down. There are no mystery ingredients such as those found in many of the other energy products."
The disposable delivery devices are sold in single units in secondary packaging that consists of a four side-sealed flexible foil pouch, which provides a moisture barrier for the powdered product inside. Pouch graphics, created by Magnifico Design in collaboration with branding agency Mechanica, were crafted to appeal to impulse buyers—the product was initially launched in New York and Boston in 12-pack counter displays at convenience stores. AeroDesigns has since expanded distribution of AeroShot across New England, and in October, the product will be available nationwide through key retail partners.
Graphics include a bright neon background color that corresponds to the flavor variety, along with a picture of the delivery device on the front of the pouch. Copy promises, "Works fast anywhere." On the back of the pouch, product usage is explained through three illustrations. "This is a new way to get your energy, and we wanted to make sure that we clearly communicated to people how to use the device," says Freedman.
AeroShot Energy is also available online at the brand Web site, AeroShots.com, along with a newly introduced indulgence product, AeroShot Chocolate, which launched in May in three flavors. AeroShots are offered individually for $2.99; in a 12-pack for $32.99; and in a 36-count TeraPack for $90.99.