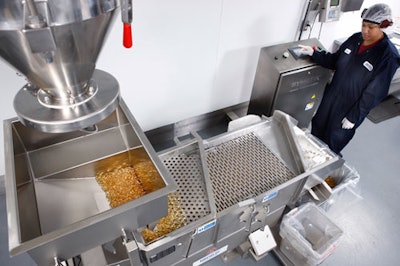 Nutra Manufacturing is the manufacturing arm of GNC, the global specialty retailer of nutritional supplements. With GNC's "quality-first" principle guiding every step, Nutra uses the latest technologies to produce the highest quality supplements.
"For commercial manufacturers of softgels, there are only two technologies to size grade that I am aware of--traditional diverging roller size graders and now Impulse size graders," says Don Deegan, Nutra's senior director, softgel operations.
Jeff Tweedy, director of production at Nutra adds, "Impulse gets us to our quality end point faster, safer, and easier. Compared to diverging roller size graders, Impulse has few moving parts and is virtually maintenance-free. And the new technology is objective in its measure."
Designed to size grade solid-dose nutraceutical and pharmaceutical products, Impulse/P features a sanitary stainless-steel bed and removable decks with holes sized for each product. Available with two or three grading decks to achieve two- or three-way size separation, Nutra selected three-deck systems, which remove twins, clusters, empties, under-diameter and over-diameter softgels.
"Impulse is designed for quick changeover," says Nutra's Jim Asbill, softgel engineering and maintenance manager. "The system can be cleared, cleaned, and changed over in less than 15 minutes with no tools."
Deegan adds, "By comparison, the diverging roller size graders take an hour or more to change over and they need to be adjusted by the operator, which introduces a lot of subjectivity. With Impulse, the decks have fixed hole sizes, which create a repeatable operation. The benefit is the consistency of product going to customers."
Nutra has three Impulse size graders and plans to install more. "The upfront cost of Impulse is higher, but we don't spend money on parts and labor and there is virtually no unexpected downtime," says Asbill. "The maintenance problems with the diverging roller size graders make the Impulse graders very attractive.
"With Impulse, there is minimal need for routine maintenance. Unlike the diverging roller size graders, which are full of moving parts--rollers, bearings, sprockets, and chains--that are maintenance-intensive," says Asbill. "Even when we do the routine maintenance on these old systems, we still have considerable reactive maintenance and that translates to money on parts and labor and unscheduled downtime because when a size grader goes down, we stop the line."
"On top of all the operational and maintenance advantages of Impulse, it is capable of handling 10 times the throughput in roughly half the floor space of a diverging roller size grader," notes Tweedy.
Impulse measures 27 in. W x 68 in. L and handles up to 1,000,000 softgels or tablets/hr, which is more than Nutra needs. "It's also safer and quieter, which improves our work environment," says Tweedy. "With zero pinch points, Impulse reduces the risk of employee injury. And it's amazingly quiet. Anything that contributes to noise reduction in the plant is beneficial."
At Nutra, the three Impulse size graders are integrated with upstream and downstream equipment to create continuous production lines. A large infeed hopper and electronically controlled gate makes Impulse easy to integrate. For manufacturers with batch processes, Impulse can be batch-fed.
Deegan admits, "Before we installed our first Impulse, I was a doubter. I expected that, with the natural variation of softgel capsules, we'd lose market acceptable yield. Meaning, it would pull off good product. But the reality is, we have maintained our yields and we have improved the consistency of deliverable product."
Tweedy concludes, "Customer satisfaction is our number one goal. The Impulse size grader is one important piece of the process that allows us to assure customers get only the highest quality product."
Companies in this article