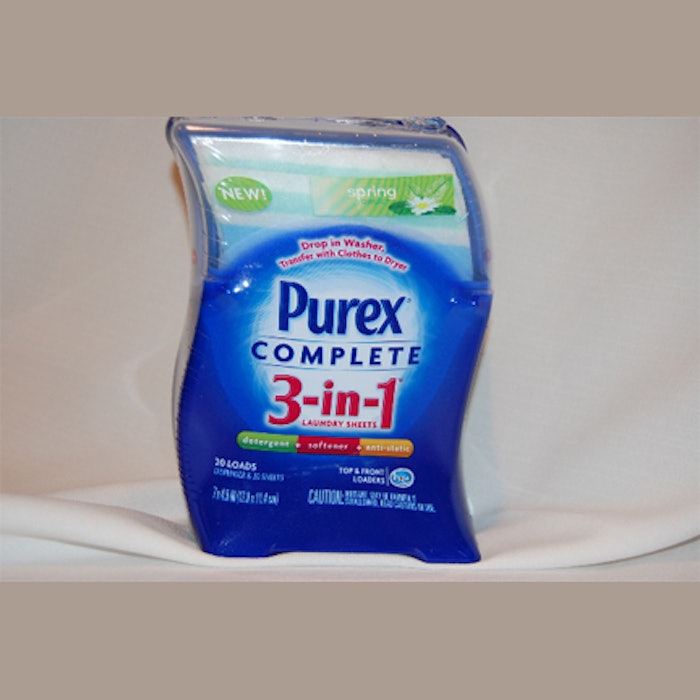 October 5–7. Voting took place in the Brand Zone, where the 10 finalists were displayed.
Packages were submitted by Pack Expo exhibitors, with the stipulation that they must have been released commercially within the previous 12 months. 
"Each of the three leading entries took its own approach to sustainability concerns," said Ben Miyares, vice president, industry relations, PMMI. "That in itself is a real indicator of the importance of the sustainability movement as a market driver."
A description of the winner is below:
Purex Complete 3-in-1 Laundry Sheets
Submitted by: Robbie Flexibles
Robbie was contacted to help The Dial Corporation create a colorful, high-clarity package that could be easily recognized on the shelf and would hold exact placement of their Purex® Complete™ 3-in-1 Laundry Sheets color pallet and graphics. The difficulties lay in the innovative, irregular shape of the product; the many multiple images designed for prudent areas on the innovative package; and the ability to eliminate print distortion using a Polyolefin shrink film. Printing on film and eliminating sleeves or labels gave Dial the ability to continue its sustainability concept by giving the consumer an all-in-one detergent, softener and anti-static product, in a convenient, refillable dispenser.
The remaining seven finalists are listed alphabetically by submitting exhibitor:
• Grape Ranch Frozen Rose
Submitted by: Ampac Flexibles
Other contributors: PPI Technologies
• 80 percent Renewable Barrier Forming Film for Perishable Goods
Submitted by: Clear Lam Packaging, Inc.
• Gump's Perfume Box
Submitted by: CMC Packaging Group
• Young & Smylie™ Licorice
Submitted by: Printpack Inc.
• Reusable Zipper Bag
Submitted by: Telesonic Packaging Corp.
Other contributors: Siemens Energy/Automation; Intralox LLC.
• PNY USB Flash Drive
Submitted by: Tegrant Corporation, Alloyd Brands
• T-Mobile Pay-As-You Go Cellular Phone
Submitted by: Tegrant Corporation, Alloyd Brands
Companies in this article