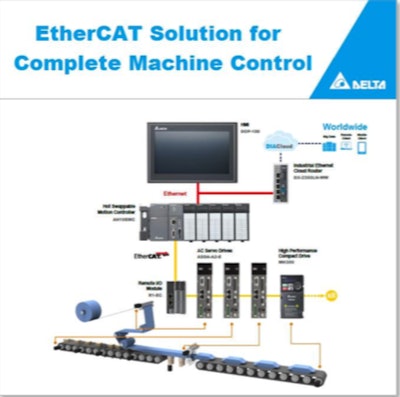 Delta is launching its AH10EMC integrated motion and PLC control module for the AH500 rack based mid-range PLC platform, to provide complete control over the EtherCAT network. It's now possible to control machines with remote I/O, induction motor, spindle motor, and up to 32 axis of synchronized servo motors – all on one network, all from Delta. This allows OEM machine builders to take advantage of Deltas cost efficient components and connect 3rd party EtherCAT devices to expand their design options. The following slave components are available from Delta with EtherCAT:
• A2 Series Intelligent Servo system in 240 or 480 VAC, 100-15kW
• R1 remote coupler and I/O slices
• MH300 micro VFD from ¼ to 30 HP
• C2000 general purpose VFD up to 840 HP
EtherCAT supports a precise distributed clock which allows for node synchronization less than 1ns whether using 1 axis or 32 axis of motion. The AH10EMC supports 8 axis at 500 μs, and up to 32 axis at 2ms update. This allows for tight control of critical motion applications over a network including eCAM, eGEAR, and ELS functions commonly used in packaging market. This key functionality will make it possible to use EtherCAT architecture solutions for complete machine controls on a wide range of packaging machinery including: VFFS, HFFS, Case packers, Tray packers & loaders, Blister packing, Feeders, Orienting, Capping, Wrappers, Labeling Systems, Fillers, and Tension control systems.
Companies in this article