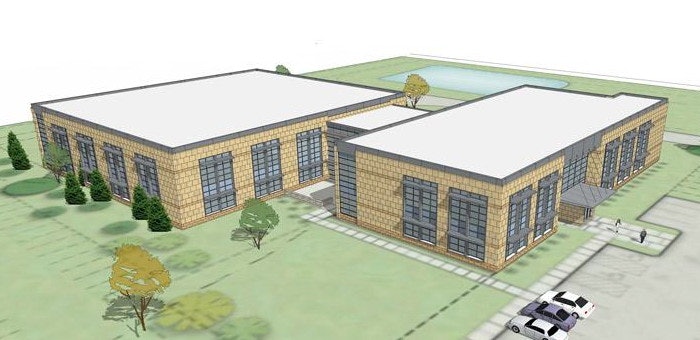 When Gerd Hoppe came to Minnesota in 1998, he was tasked with building a North American headquarters for German supplier Beckhoff Automation. As he spoke to an audience of some 250 visitors, he described an early company with no job descriptions, no lines of command, and the idea of a corporate handbook being an "out-of-body experience." And lots and lot of ice fishing, of course.
Hoppe, corporate management for Beckhoff, gathered with visitors Thursday to celebrate the opening of the company's newest North American headquarters in Savage, Minn., just outside of Minneapolis. The new space is 44,500 ft2, with warehouse space of 15,000 ft2, and is the first building that Beckhoff has owned outside of Germany.
"It shows that we really have trust in this market," Hoppe said. The U.S. accounts for just about 10% of Beckhoff's sales, so there's considerable room to grow that market. In addition, the Minnesota location is one of only three repair centers worldwide.
The company produces most of its products in Germany. They're relatively cheap and labor costs are a relatively low portion of the price, so there's no need to produce offshore, unless it's to better serve a particular market, Hoppe noted.
Today the company has about 2,300 employees in 62 countries, with about 100 in North America. Its products go into factory automation, building automation, energy generation, infrastructure, measurement and test, and intelligent devices, and it's just getting its feet wet in process automation also.
The building shows off Beckhoff's own technology in the building automation space, including automated shades that adjust as the sun moves throughout the day and also based on the time of year. With energy costs being relatively low in the U.S., it did not provide the incentive for some of the measures Beckhoff has taken with its designs. Instead, it's about showing off what can be done with energy conservation.
The building has been designed much like a machine, with 15 different zones. Lighting, heating/cooling, ventilation and window facades are all automated through Beckhoff's PC-based control.
In fact, Beckhoff's claim to fame in automation circles has been its early jump on the PC platform. With processors having the kind of speed and power they do today, the power of that PC has grown considerably. "It's clear that every application you can think of can be done on a single computer," Hoppe said.
Beckhoff's philosophy is one that rests on the use of standard operating systems, applying tried and true IT principles to the automation domain, Hoppe said. "The business we're in is basically to make hardware obsolete."
Using a standard operating system is simply the easiest solution to work with, he said. "It must not be the best, but it must be the most used," he added. And today that relies on a Microsoft Windows strategy. "For 25 years we've been trusting Intel and Windows. It's a reasonable compatible operating system."
The automation company also relies on its EtherCAT networking strategy, he noted, but continues to support every fieldbus. It's a strategy of independence from hardware and independence from software.
Beckhoff also showcased the XTS, a linear transport system that combines linear and rotary drive principles. Hoppe called it a true mechatronic system. "It's only possible through the use of EtherCAT and central control," he said, adding that it can have an unlimited number of movers on one CPU. "Everything can be done with one CPU. There's massive data coming out. It's the future of product tracing not doable on a standard PLC architecture."
Companies in this article