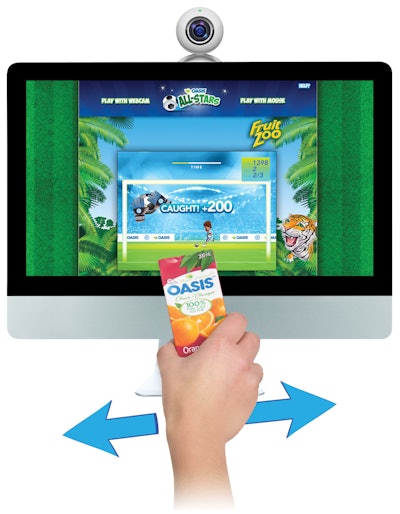 As technology continues to affect the way consumers make purchasing decisions, retailers and consumer packaged goods companies face the challenge of finding new and innovative ways to not only attract consumers, but also engage with them and create loyalty. With the advent of the smartphone, shoppers now read product reviews, compare prices, and even search for coupons right at the retail shelf. And, as the popularity of smart devices continues to grow, these new shopping rituals have proven to be more than simply passing trends. Therefore, to capture the attention of the younger generation of Internet- and smartphone-savvy consumers, CPGs will need more than just a pretty package to get these shoppers from the aisle to the point of purchase; it will take an entire shopping experience.

Many consumers feel lost without their smartphone, and for good reason: Owners depend on these devices for more than just inbound and outbound calls; they rely on them to take and store photos, to read, to get the time, to play games, to catch up on work, and—now more than ever—to shop.

IT research and advisory company Gartner predicts that smartphone and tablet sales will increase to 1.2 billion this year and will top 2 billion by 2015. With the potential of this exponential growth, retailers and CPGs need to embrace smart-device capabilities in order to stay competitive and combat the smartphone-driven "showrooming" phenomenon that is negatively affecting the bottom line of retailers around the globe. Showrooming occurs when consumers visit a physical location while considering a purchase and then check to see if they can get a better deal online or at another store. Unfortunately for retailers, this shopping development has resulted in many a lost sale.

Retailers and CPGs can improve their chances of retaining these "showrooming" consumers by engaging technologically savvy shoppers using Augmented Reality, or AR. AR takes "real world" items and overlays digital information upon them, thus linking the physical product and packaging with a virtual experience. AR takes merchandise from mass-produced to personalized, adding value to a consumer's shopping experience. And, when the buying situation becomes more personal, transactions are more likely to take place.

Cases in point

The smart-device revolution offers a unique and exciting opportunity for companies to better market their products, the best way being to take advantage of how consumers interact with packaging. Without the use of bar codes or QR codes, AR employs a new kind of smart-device App to provide a virtual view of the product, triggered by an image on the physical packaging. This advancement allows shoppers to use their smart devices in a new way, while allowing companies to actually engage with consumers at the shelf. By interacting with the brand in this way, shoppers have a personalized experience on a "right here, right now" basis.

Companies can use this innovation to engage customers in any number of initiatives, including the actual product display. Imagine that you are purchasing a gift for a child's birthday party. Sure, the toy looks pretty appealing on the package, photographed in bright colors with a pointing and smiling child standing next to it, but will the child you are purchasing this toy for actually like it? Now imagine that you can use an App on your smartphone to actually see a 3D presentation of the toy and its features. Digital information found on the packaging triggers the App to display this information on your smartphone. Suddenly, what was a square box on a store shelf has been transformed into an interactive, moving, and informational model of the toy. Once the buyer is brought in by the engaging image and information, the shopping experience has just been elevated, producing an intrigued (and loyal) customer.

One company using AR in this form is Wrangler. While launching its "Find Your Edge" campaign, the fashion brand created a product hang tag featuring a model adorned in Wrangler jeans who starts to move and dance when activated by an AR App.

In addition to using the packaging to simply bring the product display to life, companies can also attract prospective buyers using AR to offer personalized sales promotions. Instead of simply walking by a yellow sales tag affixed to the shelf for all store-goers to see, customers can use their smartphones to gain access to special coupons or deals meant specifically for them. For example, the image from the packaging could direct you (via your smartphone) to an exclusive offer redeemable to you.

Many CPGs are using packaging to announce their social responsibility initiatives; AR can be used to further explain this concept to consumers wanting to learn more. Instead of having to navigate through your Web site, consumers can retrieve that information by focusing their smartphones on the Fair Trade logo displayed on the package. Companies could use this capability to show shoppers a video detailing their ethical sourcing information or to display the benefits of recycling, for example.

Some companies are even looking to engage with consumers in ways that go beyond product marketing to actually entertaining consumers. AR on a package can initiate a game or play a music video for the shopper. Last year, Canadian fruit and vegetable juice producer A. Lassonde, Inc. launched its 200-mL Tetra Pak cartons of Oasis fruit juice with an AR feature that turned the carton into a game controller for an online interactive soccer game, Oasis All-Stars. It worked with all Oasis Classic, Oasis FruitZoo, and Oasis Fruits juice boxes, and directed the consumer to the game's Web site. Technology was supplied by Augmented CPG.

In another example, Kit Kat UK launched an entertainment-based AR campaign that featured a band performance when triggered by a design on its 4-Finger bar packages. The musical group Scouting for Girls appears in a 3D cartoon world performing their song "Don't Want to Leave You."

These are just some of the ways that companies can incorporate AR into their packaging. We are just scratching the surface on what smartphones are capable of, and if companies don't embrace the technological revolution that these devices have created, their products will be left on the shelf. This emerging technology changes the actual need and purpose of packaging. As such, companies need to be ready to adapt and change for this new frontier.
Effective use of AR: tips

Because the landscape will continue to change, here is a short list of tips that companies can follow during their packaging processes in order to be AR winners:
1. Utilize 3D design capability. AR can work with your existing packaging. New 3D layered images can be incorporated to make the shopping experience more compelling, engaging, and interactive.
2. Maintain a consistent, universal process. Given that the rate of change in packaging to support AR is set to rise, companies with a robust and repeatable packaging-launch process will fare best. All internal and external contributors should follow this process.
3. Communicate effectively. This means that everyone involved in the packaging-launch process should have visibility to all aspects of the launch, including the current status of the project and what is coming down the line. Everyone in the process should be provided with timely reminders and triggers when they are up against tight deadlines.
4. Preserve one truth. Images and packaging assets are more important than ever and need to be managed as attentively as copy and labels. Maintaining a singular source of images and packaging data that can be shared by everyone involved in the process can help retailers and CPGs manage changes easily and effectively.
5. Work smart and stay on pace. Getting it right the first time is an extremely important concept in packaging-launch cultures. Avoiding rework loops is the fastest, most efficient way to work.

As the younger generation of technology-savvy shoppers continues to grow, so will the need for technology that can make the shopping experience more engaging and enjoyable. Through the use of AR, companies now can interact with consumers at the shelf in a way that they were never able to before. By capitalizing on the benefits of this innovation and merging the tactile world that we live in with the ever-changing digital environment that we are now accustomed to, companies will not only attract and engage consumers, but also garner new and loyal customers.

Ian Schofield is head of Innovation for Sun Branding Solutions, which provides turnkey packaging launch solutions for brand owners and private-label retailers.
Companies in this article