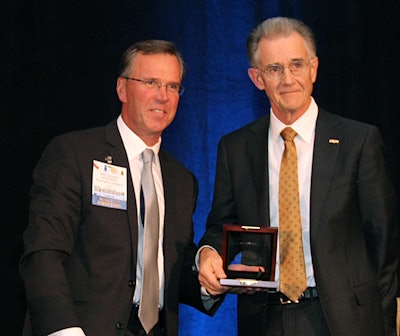 Induction into the Packaging Hall of Fame is the packaging industry's highest honor. Wilson was selected for this prestigious award because of his dedicated leadership in the industry and his commitment to education. He has personally advanced the field of packaging. As a PMMI Board of Directors member since 2006, and Chairman of the Board since 2011, Wilson has been instrumental in establishing PMMI's future growth and direction. During his leadership tenure, PMMI has introduced the customer-centric approach to PACK EXPO, expanded general membership to qualified firms based in Mexico, introduced EXPO PACK Guadalajara, and began implementing its new strategic vision.
And as valuable as his contributions have been, what is most impressive may be how Nick Wilson has impacted education — and mechatronics education specifically. Packaging machinery has undergone the transition from primarily mechanical operation to complex combinations of mechanical and servo/PLC controls. Wilson saw this change and identified the need for engineering education that integrated electrical and mechanical knowledge and consequently fostered the growth of mechatronics education. This is especially evident at Purdue Calumet.
Wilson convinced faculty at Purdue Calumet of just how critical it was to establish a mechatronics education program. Then, he encouraged and drove a partnership among Purdue Calumet, packaging industry leaders and PMMI. The mutually beneficial connection provides students up-to-date equipment, technical advice and assistance and internships, and gives the industry partner companies the reassurance of knowing there will be a growing qualified pool of candidates moving forward.
Wilson and his wife, Nancy, went on to participate in the development of the school's Baccalaureate of Science degree program in mechatronics, provide scholarships and internships for students, and donate equipment for hands-on training at the school's new Nick & Nancy Wilson Mechatronics Laboratory.
His commitment to education reaches far beyond a single educational institution. He has also played an active role in PMMI's Mechatronics Certificate program. The program augments mechatronics skills standards developed by PMMI and embraced by the U.S. Department of Labor's Competency Model Clearinghouse. It is also a component of The Manufacturing Institute's Manufacturing Skills Certification Systems (SCS) offerings. Wilson has virtually guaranteed manufacturers will have the opportunity to hire engineers whose skills encompass all they need to know. Wilson also serves on the Dean's Executive Council at the Purdue Calumet School of Technology. Is an elected member of the advisory council of the Purdue Technology Center of Northwest Indiana.
In 2011, Wilson was honored with the Professional Achievement Citation in Engineering (PACE) from Iowa State University's College of Engineering, where he earned his BS in chemical engineering in 1967. He earned an MBA in Accounting from Loyola University in 1976.
Companies in this article