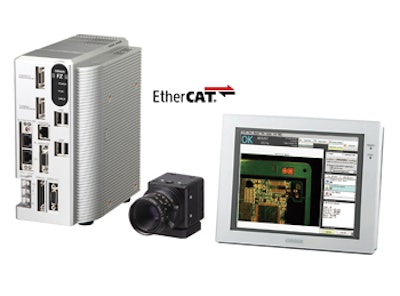 Omron Industrial Automation introduces the FZM1 vision system, optimized to deliver accurate positioning coordination data required for high-speed pick-and-place and alignment applications. In addition to true-color image processing for exceptionally accurate quality inspection, the FZM1 provides coordinate data via high-speed EtherCAT and Ethernet TCP/IP for easy networking with any motion device, regardless of vendor. It also leverages Omron Industrial Automation's intuitive user interface to simplify setup and operation of positioning applications in conjunction with robots and motion stages. The EtherCAT Technology Group has certified the FZM1 vision sensor compatible with EtherCAT application requirements.
Features of the FZM1 vision system include:
• Easy setup and configuration for calibration of robots or motion stages with the Application Wizard
• Support of XY and XYθ robots and XYθ, θXY, UVW, and UVWR motion stages
• Precise and stable part identification
• High-speed cameras for fast image acquisition
• Shape-based object positioning to ensure:
- Robust positioning under hardest conditions
- Detection of dirty or overlapping objects
- Stable inspection of rounded or broken edges
• Powerful quality inspection tools to identify objects with minute defects or scratches
• Communication via EtherCAT or Ethernet TCP/IP
• Flexible camera installation: use different fields of vision and install at any angle
For more information on this exciting new vision system tailored for pick-and-place applications, including specifications and ratings, click here.
Companies in this article