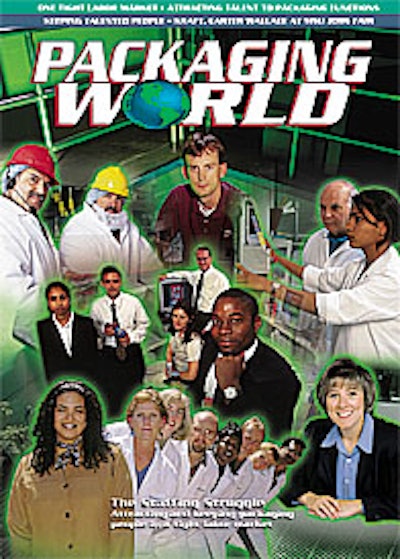 There are practically no mentoring programs, nor any other real investment in management development."
Wynn has specialized in senior-level packaging personnel searches for 21 years. While most of his efforts have been geared toward placing personnel at packaging vendors, packagers face the same challenges, says Cook.
"Packaging is a traditional [business], and people are rooted and often resistant to opportunities," he explains. "Young talent has been reluctant to go into packaging, and now it's even hard to get qualified candidates in their 40's. In addition, there's always a problem trying to recruit people from outside the business." Attracting and keeping packaging people in a tight labor market was the subject of a series of Packaging World articles (see photo) called "The Staffing Struggle" (see PW, Oct. '98, p. 90, or packworld.com/go/staffing).
Despite some significant nationwide layoffs reported throughout corporate America in recent months, Wynn says "we're still in the longest hiring boom in memory. Competition among companies and industries for the best people has never been so intense, and the talent pool is getting smaller."
To compete in this setting, packaging companies might need to look beyond finding personnel from competitors. Cook says it's time they tried searching for help in outside industries. Enticing prospective employees not only means offering an inviting financial package, but also the opportunity to work with "the right supervisor and colleagues, and a good environment." Companies that don't pursue all available options, he says, may find themselves in a position where they don't have the necessary talent to compete.
For more information, call Cook Associates, Inc., at 312/755-5632, or see the company's www.cookassociates.com Web site. (JB)