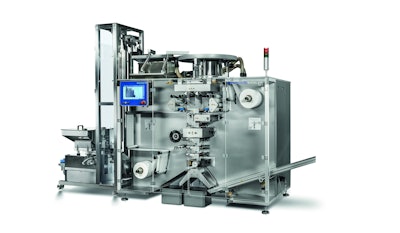 Romaco North America, a supplier of processing and packaging equipment for the global pharmaceutical industry, features two premium machines at PACK EXPO/Pharma EXPO. These include a compact eight-lane, balcony-style strip packaging machine capable of processing thousands of tablets or capsules/min, and a flexible, hygienically designed tablet press whose cool operating temperature is ideal for processing temperature-sensitive medications such as Ibuprofen or Metformin.
The Siebler HM 1-230 heat-sealing machine packs pharmaceutical solids in air, light and moisture-tight strip packaging. Configured with eight-lane product feeding, the compact, balcony-style machine processes up to 3,200 tablets or 1,800 capsules/min.
Reproducible sealing parameters and bespoke sealing patterns provide high sealing quality. The rotary sealing system features thin-walled, detachable format sets that heat up rapidly and guarantee precise temperature distribution on the sealing surfaces. Multiple heaters and integral temperature sensors add process reliability. The design of the Siebler HM 1-230's sealing tools ensures optimal reaction times when checking temperature tolerances.
For the first time, says the company, strip packaging in different geometries can be manufactured if the customer so wishes. Round or cloverleaf-shaped packaging also is possible, as are standard rectangular forms. Siebler offers flexible solutions for transferring the strips to a downstream Romaco Promatic cartoner. And with the Romaco Siebler FlexTrans robotic transfer station, stacking is almost completely independent of specific formats. The system can thus be adapted quickly and easily to different strip layouts, pack sizes and stack heights. The cGMP-compliant design of the Siebler HM 1-230 is ideal for small-to-medium batch sizes as well as so-called "blockbuster" products.
Meanwhile, the Romaco Kilian KTP 420X tablet press is designed to be cool, fast and clean.
"Cool" stands for reliable cooling of the process area to below 30°C, which makes the technology well suited for processing temperature-sensitive medications such as Ibuprofen or Metformin. Compression rollers, bolts and bearings ensure low mechanical friction while the efficient cooling of the module's V-ring seals and drives prevents the excess formation of heat.
"Fast" denotes high-speed product or batch changeover. The die-table tablet chute and fill shoe can be swung in or out so that fewer adjustments are needed for cleaning. Changing the product or format is easy, because no special tools are required and there are only a few easy-to-disassemble parts that require cleaning.
"Clean" refers to an optimized hygienic design, which improves product quality and makes cross-contamination unlikely. The hermetic separation of the compaction area and the machine compartment means no tablet dust migrates into the bottom of the machine, and patented punch bellows protect the tablets from contamination with lubricants. The "edgeless" design means cleaning time and effort is kept to a minimum.
The high-speed tablet press offers excellent OEE (overall equipment effectiveness) and TCO (total cost of ownership) values. The technology provides versatility as well. For example, the effervescence concept developed by Romaco Kilian allows fragile effervescent products to be processed reliably. There is no risk of breakage or dust when the effervescent tablets are transferred directly to the Siebler packaging machine or tube-filling machine.
Companies in this article