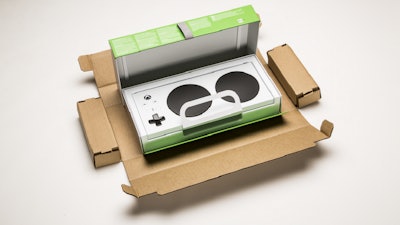 Though some healthcare packages are designed with the intended users' limited mobility in mind, the packaging community still has much work to do in offering ease of use and dignity to patients. And should inclusive design be limited to non-discretionary purchases? In a perfect world, no.
Microsoft is being celebrated for improving accessibility in the gaming sector for its Xbox Adaptive Controller. The company recently won the top Diamond prize at this year's Pentawards (the high-profile packaging design competition) for its package design, which allows better gaming access to those with disabilities. The package beat competition from over 2,000 other entries to win best in show.
Both the single-shipper and retail package for the controller were designed to "unfold" to reveal what's inside—the shipper reveals the retail package, and the retail package reveals the Adaptive Controller.
In an blog post last year, Microsoft explained their methodology. "There's lots that can be done in the 'accessibility' packaging space, but for this job, we were focused on making the packaging more accessible in the area of mobility, specifically."
The company developed a "no teeth" principle, as those with limited mobility often resort to opening packages with improvised movements, including using teeth. Disability advocates were consulted during development."Beta testers were a significant part of the early review process and much of the final design elements can be contributed to their feedback. It was important for us to understand what was useful on a package, and what should be avoided. Insights gleaned from beta testers and UX respondents was invaluable during our creative explorations."
According to the Pentawards news release, "Microsoft integrated discreet air cells into the shipper packaging for protection for the product while maintaining a small pack size and clean design. An open cavity area under the controller enables multiple ways to remove the controller from the box, including pulling via a loop or sliding it out directly." The box has a low center of gravity to create a sense of stability for the end-user.
Adam Ryan, Head of Pentawards, comments: "The jury were blown away by Microsoft's entry. It is certainly one of the biggest leaps in innovation that I have seen during my time at Pentawards. Whilst there were thousands of fantastic entries this year, this was undoubtedly deserving of our highly sought-after Diamond Award."
In addition to the Diamond Award, five Platinum, 58 Gold, 118 Silver and 113 Bronze awards were awarded at the gala ceremony on Sep. 12, 2019. In addition, the Pentawards also recognized the Agency of the Year, Brand of the Year and the NXT-GEN award, which is given to the best student entry.
To view the Xbox Adaptive Controller packaging in action,click here for video.>>>
Companies in this article