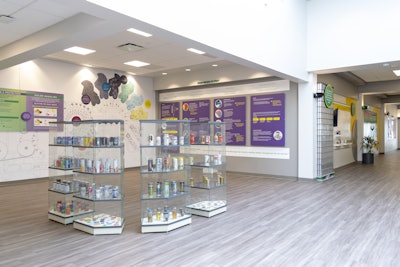 It's not easy to get a consumer to pick your product off a crowded shelf, and that's especially true among crowded refrigerators of colorful craft beer cans. But to test designs and pick winners quickly, Yards Brewing is taking advantage of pilot can printing machines at Crown Beverage Packaging North America's new graphics studio, located in Ambler, Pa. The facility is not only making can designs come to life, it is also streamlining the process from concept to reality. The global metal packaging company opened the studio, a showcase for customers to understand the company's history, capabilities and dedication to sustainability, in late 2018.
The studio provides services ranging from consultation and color and ink recommendations to separation and a preview of the finished product. In-house staff with expertise in can design, color, pre-press and layout can guide customers through the entire process. The team helps marry creative imagery with the billboard presentation that beverage cans offer, while helping minimize potential production issues. With a wide array of design samples and applications on-site, customers can get an up-close look at Crown's innovations and take inspiration for their own packaging projects.
One of the many creative focuses at the studio is on craft beer, and representatives from Yards Brewing were on hand to discuss their collaboration with Crown. Yards Brewing was founded in Philadelphia, Pennsylvania, and has grown from a garage brewer to its current 70,000-sq-ft location in the Northern Liberties section of the city. Today, it produces close to 10,000 kegs per week.
The brewer partnered with Crown during the past year on some new launches, such as Pynk tart-berry ale and Loyal lager (which is just being canned this week). As the craft beer industry has grown over the last decade or so, it has created opportunity for smaller, higher-quality canning machines that can be used for producers such as Yards, explains Steve Welsh, Yards Brewing director of plant operations. "When we moved into our new location, the No. 1 thing we wanted to do was get into cans."
"The two greatest benefits of having Crown partner with us was the reduction in the back and forth and the lead time during the graphics process," says Gina Vasoli, Yards' project and communications manager. "We accomplished in one lengthy morning here what would normally take a few months."
According to Vasoli, the beauty of the pilot can printing machines at the studio was that they could tweak colors and designs with the Yards team in attendance "We were able to choose swatches from the swatch book, which was a huge time saver for us," she adds.
While Yards has no plans to discontinue its popular bottled brews, the can market is growing for the company. "We're definitely moving more into the cans," says Welsh. "There's no light intrusion into the can. It's way better for shipping. You can talk about the environmental benefits all day as far as the recyclability of it."
Last year, Yards Brewing purchased approximately 1.5 million cans. Its beers are distributed in Pennsylvania, New Jersey, Delaware and eastern Maryland, with about 80 percent of its production sold within a 100-mile radius of Philadelphia.
Crown's capabilities
One distinct feature Crown has is the ability to provide variable print technology. "We can make a variable print so that you can get different things on the same pallet and have 24 different sayings or images," explains Paul Fennessy, director of graphics for Crown Beverage Packaging North America.
For example, Molson Canadian distributed cans with all the country's provinces, and Crown was able to mix them in one pallet. Crown also provides different finishes, such as tactile cans, cans with a variety of varnishes, thermochromic inks that can change colors when refrigerated, and a variety of can sizes, such as Crown sleek cans that are now in high demand.
"We like to work with the customer on the design process," says Fennessy, "including everything from design brief all the way through can production swatches that we have drawn down on metal." Traditionally, customers request PMS colors from a Pantone book. "The problem is," says Fennessy, "if you look at this Pantone book, it's printed on bright white paper. Aluminum cans are not bright white, so each color [produced by Crown] is a formula that our ink provider manufactures for our customers."
All the inks have been digitized, and Crown customers can pick from approximately 600 colors.
Companies in this article