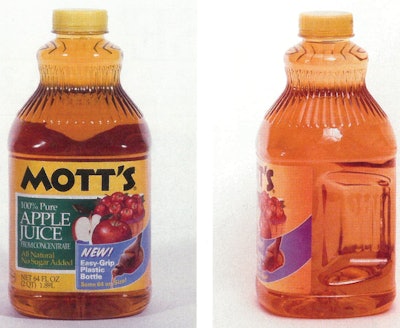 Aseptic filling allowed for shelf stability, meriting several articles and mentions in the March 1994 issue of Packaging World. Pat Reynolds wrote about Ocean Spray's PET replacement for its 1-gal glass bottles. These featured an applied bail handle, part of the 48-mm PP closure, to help consumers with the pour. Another March '94 news item focused on a unique, pinched-waisted PET bottle for easy gripping by the Motts brand. "That's difficult for hot-filled PET bottles because their sidewall panels help keep the bottle from collapsing under internal pressure as the hot juice cools," Packaging World stated.
Shelf-stable juices testing various handle methods were yet again magnified in April 1994, this time in the form of Minute Maid Naturals, in Ben Miyares' venerable Insider column, which is still going in Packaging World every other issue.
Fast forward 25 years, and juices continue to evolve in terms grips and material. The Coca-Cola Co. just last year worked with suppliers to create a new recyclable bottle for its Simply brand of juices. The 89-oz bottle with integral handle uses Indorama's Polyclear EBM PET 5507 resin, which is molded using extrusion blow-molding equipment. And PI Labs' new BottleOne technology also features 64-oz and a 2-L versions of a PET bottle, both with integral handle.