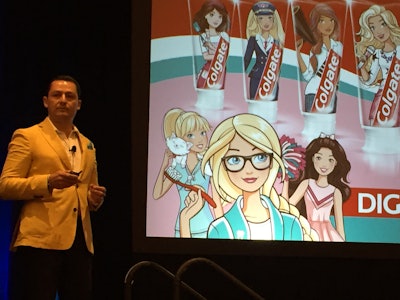 The conference is produced by Smithers Pira. Arevalo talked about a digital printing initiative launched recently in Latin America where 54 different varieties of Barbies were printed on its tubes of toothpaste. The project was so successful that the firm saw a big lift in sales. Among the hurdles that had to be overcome were these:
• How do we manage the inspection of 54 different designs?
• How do we validate an entirely new vendor?
• What about issues of ink adhesion, the right primer, the right varnish?
And then there was the "Bureaucratic Octopus" to be dealt with—marketing, design, procurement, supply chain, planning, finance, and other company stakeholders had to be dealt with and in some cases placated. Arevalo admitted that this was no walk in the park. But as conference moderator Sean Smyth of Smithers Pira astutely observed, "Show a measurable lift in sales and something tells me that taming the Bureaucratic Octopus becomes a lot easier."
Companies in this article