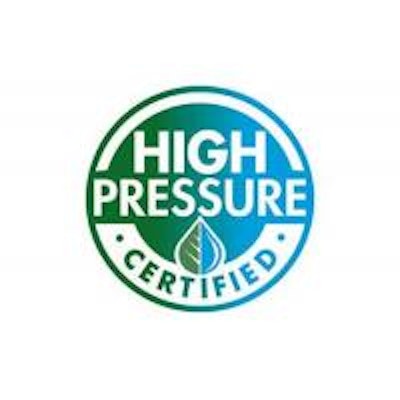 Food and beverage companies certified as using high pressure processing (HPP) began displaying the High Pressure Certified logo on the outside of their packaging. This new logo was developed by the Cold Pressure Council (CPC), an association formed to lead, facilitate, and promote industry standardization, user education, and consumer awareness of HPP.
An early adopter of this logo is Evolution Fresh, a juicer notably supplying Starbucks, and a Founding Member of the CPC. The company presses and squeezes vegetables and fruits, bottles the juice cold, and uses HPP to help protect the flavors and nutrients of the raw fruits and vegetables. The company offers a range of ready-to-drink cold-pressed juices, available in many grocery retailers and Starbucks nationwide.
"We're excited to debut the High Pressure Certified logo on all Evolution Fresh bottles and focus on educating both customers and retailers on the benefits of HPP," says Ryan Ziegelmann, President, Evolution Fresh/Starbucks. "The High Pressure Certified logo will help to communicate our commitment to HPP, a process which helps to maintain the flavor and nutrients of the raw fruits and vegetables in our juice."
HPP is a food safety and preservation technique, recognized by the FDA, that uses ultra high-pressure purified water to keep packaged food pathogen-free and to stay fresh longer. Food is subjected to pressures as high as 87,000 lb./sq in., rendering bacteria inert. The roughly 20-year-old market of HPP food products was valued at $12 billion in 2017, and is expected to double within the next six years, according to HPP machinery builder Avure Technologies, a business unit of JBT Food Tech. The prediction is based on consumers and food companies both wanting clean labels and convenience. And according to proponents, HPP offers better taste, texture, and nutrition than traditional high-heat pasteurization.
"Some of the specific categories that are growing with HPP are the ready-to-eat meals, especially with services like Blue Apron and Hello Fresh," says Lisa Pitzer, Marketing Director at Avure. "But consumer awareness is an issue, which is where the High Pressure Certified logo comes in. Consumers see the all-natural or no-preservative labels, and those resonate with them. But for HPP, while there is some consumer awareness in the juice industry, it doesn't extend very far beyond that. So, educating the consumer and building awareness is the Cold Pressure Council's objective."
All eligible CPC members can use the High Pressure Certified logo on packages to help identify the benefits of high pressure processing. The logo will be available only to Cold Pressure Council members and only after verification of the proper use of HPP. While juices like Evolution Fresh enjoy a little more awareness among consumers, Ziegelmann and Evolution Fresh are also committed to the CPC's mission.
"Evolution Fresh is fortunate to be working alongside a terrific group of companies [in the CPC] that are committed to education and raising awareness of HPP. Right now, we are focused on education supporting the use of HPP and its benefits for many beverage and food categories," he says. "HPP is currently utilized by a wide variety of products and more SKUs across every category are increasingly using HPP. Through the CPC developing best practices for the HPP industry and the new High Pressure Certified Seal, we hope there is greater adoption of HPP technology across the food and beverage category."
Beyond the logo, membership in the CPC affords networking opportunities with other businesses and professionals in food and beverage, and supports the advancement of HPP.
Formed in late 2017, the CPC offers three levels of memberships. A general membership for $3,000 a year covers companies that have and use HPP equipment, such as machinery manufacturers and processors. The associate level membership is $4,500 a year for suppliers to the industry of products such as components, packaging materials, and other types of systems needed when using HPP. A noncommercial organization membership level accommodates government and university staff or other noncommercial professionals. This is a license program, and there is $250 fee for each SKU, every one of which must be annually audited by an outside firm. PMMI, The Association of Packaging and Processing Technologies, provides management and staff support for the CPC.
To learn more about the Cold Pressure Council, existing members, membership guidelines or qualifications, and more, visit coldpressurecouncil.org.
Register for HPP Conference
Learn how to drive High Pressure Processing forward at the Cold Pressure Council Annual Conference, June 18-20, in Chicago. Visit coldpressurecouncil.org to register.
Companies in this article