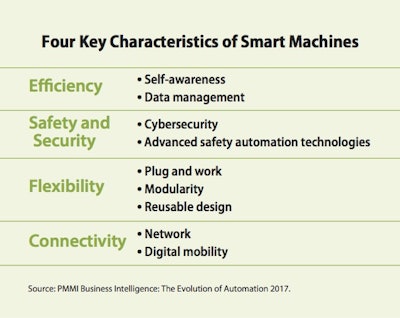 The event was hosted by GE Digital and sponsored by Intel and PMMI's OpX Leadership Network.
Greg Flickinger, Group Vice President of large independent grocer H-E-B, and Dan Smillie, GE Digital, modeled the meeting after a recent vendor summit for the development of a new H-E-B manufacturing plant. The H-E-B vendor summit consisted of two full days of education on emerging technologies, combined with breakout sessions specific to H-E-B's new plant development. The duo beleived the meeting had gone so well that the industry as a whole could benefit from a similarly structured Technology Immersion Summit.
"This was an opportunity for everyone to remove themselves from the daily white noise of urgency, to think strategically, and to better prepare themselves to compete in this dynamic and quickly evolving marketplace," Flickinger says. "Technology is changing and evolving so fast that we can be up to speed one week, and wake up behind a week later. The speed of change continues to accelerate, and we can no longer work in silos."
Septimatech President and CEO Sharron Gilbert approached the summit not only as a learning platform to bring information back to her company, but also to network and find out where her peers stood on digital.
Dorner Vice President of Sales and Marketing Matt Jones approached the Summit with similar networking objectives, and relished the opportunity to see how one of the world's largest corporations manages its data and digital planning.
"[The summit] presented a unique opportunity to see how companies like GE are approaching this important initiative," Jones says. "A significant bonus to me was seeing how other medium- and small-sized companies in our space are tackling digitalization."
Big picture
For those who weren't there, here are a few key takeaways provided by Flickinger, Gilbert, and Jones:
1. Affirmation of current approach
The glimpse into GE's information system structure and deployment provided a barometer for companies to see where their own technology stood, and informed each company's planned approach for internal manufacturing operations. For Jones, it confirmed that Dorner's business direction and planning were solid while providing a comparative forum to determine where Dorner stands in its journey.
2. Digital is diverse
One essential element reinforced throughout the summit was the need for companies to get started on a digital plan not tomorrow, but in effect, yesterday. Fortunately 94% of those in attendance are either currently developing or will soon begin developing a plan for digital transformation. Digital change is not limited to manufacturing, equipment, and supply chain, according to Flickinger. It is in every facet of an organization, as GE demonstrated by revealing its transformation of sales and back-office functions.
3. Augmented is real
Gilbert may have summed up this "future is now" narrative most succinctly when she noted, "technologies are no longer futuristic—they have arrived and are moving quickly." Augmented Reality (AR) was one area where the rapid progress raised eyebrows. Jones and Flickinger each identified current AR technologies their teams may be able to apply to improve field service and overall equipment effectiveness, with Jones seeing potential use in manufacturing and product development groups. Wearable technologies seem to be the most attractive of the AR options.
Smart machines have arrived
Corroborating sentiments espoused at the Technology Immersion Summit, a study released last Fall by PMMI Business Intelligence, The Evolution of Automation 2017, says U.S. manufacturers will need smart machines to be more competitive in the global market.
The CPG industry will expand the level of intelligence derived from plant floor machinery in order to accommodate more predictive planning and more flexible business needs. Machine automation and line integration are growing in every industry and at every stage of manufacturing. Sensors are getting smaller, actuation is getting faster, vision inspection is more reliable, robotics is moving out of packaging and improving efficiencies up the line—all to maintain maximum uptime.
The progression to smart machines will have a major impact on how OEMs design machines, how data management systems are implemented, and how lines are integrated with communications.
"Disparate platforms, languages, and a lack of standards are all hurdles to overcome," says one automation supplier. But automation is moving forward and there seem to be no insurmountable hurdles to greatly hinder its growth, according to the 58-page report.
Four key characteristics of smart machines include efficiency which encompasses self-awareness and data management, safety and cybersecurity, flexibility such as modular design, plug and work, and reusable design, and connectivity, including network and digital mobility.
Download the executive summary for free at pwgo.to/3371.
Companies in this article