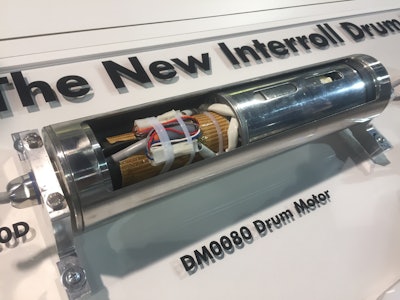 Interoll's new generation of motors with fully modular synchronous and asynchronous designs are engineered for high performance and longevity, and to meet stringent hygiene requirements.
This modular platform strategy will be used initially with all asynchronous and synchronous motor types with an 3.21" diameter, and will be expanded to the entire product range in the future. Thanks to its modular flexibility, the new drive generation makes it significant easier to plan and implement highly efficient and user-specific material-handling solutions.
All drum motors in the new generation are fitted with the highest degree of IP69k protection, which makes cleaning the facility much faster and easier and also reduces the risk of product contamination in the food processing area. The PTFE-sealing allows a high-pressure cleaning with chemicals according to ECOLAB specifications.
Flexibility
An extended number of gear stages broadens the range of speeds so that one drive solution is sufficient for all current and future uses. Furthermore, all options like encoders, brakes, or backstops are available for all motors. The extended range of variants for the motors from 0.034 HP to 0.570 HP covers all conceivable uses in the food industry, material handling, and manufacturing. All motor components are standardized, and thoroughly tested, equating to shorter delivery times.
Meanwhile, simplified construction means easier service at lower costs. Since all motors have the same shafts, the variety of parts is reduced to a minimum, resulting in a fundamentally easier conveyor construction - no matter if a synchronous motor or an asynchronous motor is needed. Replacement parts are available worldwide through Interroll and service partners provide fast and professional repairs.
Robustness & stability
These drum motors' 30 mm shaft is significantly stronger than previous iterations and competitors, allowing for higher belt. Tension as it does not bend even under higher load and at the same time, protects the ball bearings. The customers is on the safe side even with a non-optimal belt tensioning.
A stable planetary gear box delivers a high torque in all motors, holds up against bending, and resists against overload and impact load. The result is safer, more reliable operation with fewer breakdowns, the company says.
Plus, l critical components and mechanical connections have been subject to stringent laboratory endurance testing, confirmed by practical tests with Interoll customers.
Companies in this article