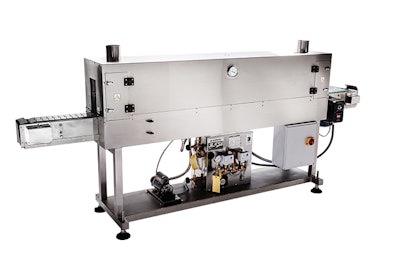 Shrink sleeve and label solutions provider American Film and Machinery introduced the WSN-Gen S Steam Heat Tunnel at PACK EXPO last week. The WSN-Gen S is an all-in-one tunnel that includes its own steam generator. The tunnel is designed to augment shrink labeling lines in CPG industry.
The WSN-GEN S is designed for simple setup where in-plant steam generation isn't readily available. Equipped with two adjustable tier manifolds, the GEN S directs the steam heat where needed to produce a precise, high quality finished appearance of PVC, PETG, OPS, and PLA labels and neck bands. The GEN S provides better contour than radiant heat and ensures a quality finish regardless of container size or shape.
The GEN S tunnel uses a 9"-tall and 4"-wide opening to accommodate a number of shrink sleeve products. The tunnel has a maximum temperature of 212°F and features high quality steam heating elements and an adjustable manifold for uniform heat distribution. Changing containers or labels isn't an issue - tier adjustments and controls are done from the operator side of the tunnel, making adjustments safe, quick and easy.
Companies in this article