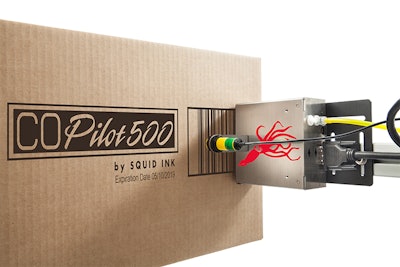 Squid Ink's CoPilot 500 printing system is designed to print high quality hi-resolution characters on porous surfaces. With up to 2.8" print height per printhead and the ability to run up to two printheads from one controller, the CoPilot 500 offers a versatile, yet cost effective solution for coding and marking.
inkjet market. The inclusion of the 502 series engine allows more print flexibility including binary and greyscale printing, faster print speeds at lower levels of resolution, and user-defined print droplet size output ranging from 15 – 75 picoliters. In addition, the new larger 2.8" printhead makes an ideal solution for users looking to replace the high cost of labels for their case coding needs.
CoPilot 500's 4.3" full color touchscreen provides access to the system's internal messages and print functions. Messages are created and edited on Squid Ink's easy-to-use Orion™ PC Software and transferred via Ethernet or USB device. For larger applications, a virtually unlimited number of CoPilot 500 printing systems can be connected wirelessly or via Ethernet an with Orion software, ideal for mobile programming within the facility.
According to the company, the system is capable of running oil-based inks to print up to 5.6" (2.8" from a single head) of hi-resolution characters, razor-sharp text, scannable bar codes, and sharp logos at 200 dpi. Solvent-based systems to print on non-porous surfaces will be available in the near future. For manufacturers looking for more printer mounting flexibility, the CoPilot 500 printhead can be positioned in multiple positions including horizontal, down shooting, and side shooting. For current CoPilot 382 users running 2.1" printheads, a controller software upgrade will allow them to run the larger 2.8" CoPilot 500 series printheads.
"The new CoPilot 500 is an immediate upgrade to a manufacturer's coding and marking line," said David R. Mylrea, President and CEO of Engage Technologies Corporation. "The larger print size and increased user-flexibility will allow customers to print what they need, when they need it, and save money doing so.
Companies in this article