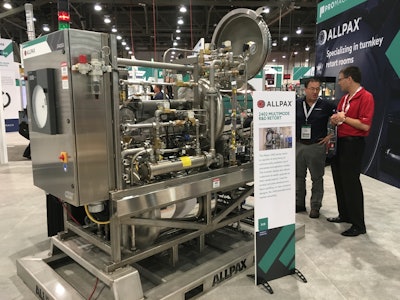 Shelf-stable foods have come a long way in the past few years. Allpax, powered by ProMach, joined forces with the School of Nutrition and Food Sciences, Louisiana State University (LSU) Agricultural Center to help North American shelf-stable food companies succeed.
Greg Jacob, general manager of Allpax, says the company is taking a different approach to the retort equipment market. "The modular design of Allpax's retort equipment allows customers to easily upgrade or expand. The Allpax 2402 multi-mode retort is capable of exceeding all commercially available retort and agitation modes."
According to Dr. Louise Wicker, professor and director of the School of Nutrition and Food Sciences, LSU Agricultural Center, "Taste is a fundamental driver of food sales. By combining food formulation with messaging that connects with a target audience, shelf-stable foods can fit the lifestyles of the most discerning consumer."

The partnership with the School of Nutrition and Food Sciences, LSU Agriculture Center, and Allpax offers sensory science and packaging laboratories, experienced faculty who have relationships with global food development, and marketing leaders, in addition to the R&D Retort by Allpax. The Allpax Shaka® retort dramatically reduces the cook and cooling timer required for in-container sterilization of low-acid foods. "We have the ability to prepare and package foods into metal cans and injection in-mold-label oxygen barrier packaging," Wicker said. "We can evaluate foods after retort processing for quality, acceptance, and stability and allow informed decisions about commercial viability."

An Allpax 2402 multi-mode retort on display at PACK EXPO Las Vegas is similar to the one used at LSU. Each 2402 multimode R&D retort is customized to the specifications of the lab. One unit can offer as many modes as the customer chooses. These multi-mode retorts can run saturated steam, steam air overpressure, water immersion, water spray, and water cascade processes in combination with seven changeable modular agitation modes — still, end-over-end, swinging, Gentle Motion shaking (low-speed), The Shaka (high-speed), hydrostatic simulation, and axial rotation. These units accommodate cans, bottles, pouches, cups, trays, metals, glass, plastics, and double-seam film and foil closures and are capable of testing flavors and films.
Companies in this article