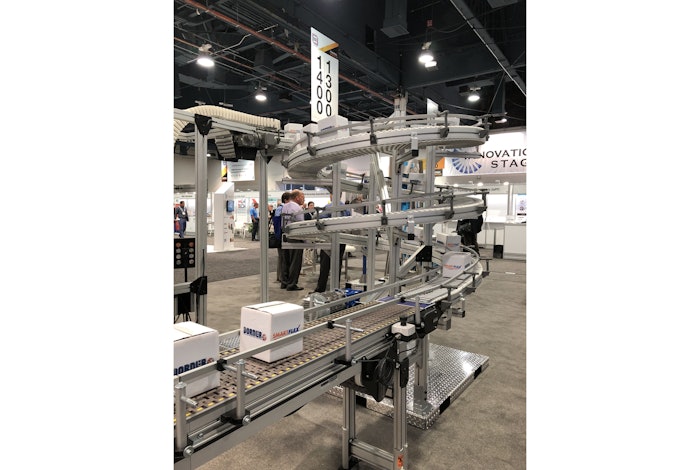 Dorner debuted the new SmartFlex Helix Conveyor, which features a proprietary flexible chain manufactured by FlexMove, a Dorner Holding Company.
The SmartFlex Helix can operate in a footprint as small as a 10 ft. by 10 ft., and is ideal for product handling applications where product needs to travel up or down in a confined space. The conveyor's compact design allows for five ft. of elevation change in 10 ft. (incline angle of up to 12°), giving users more freedom and flexibility in designing a material handling system with multiple layouts using a single conveyor. The SmartFlex Helix comes in three belt widths: 85 mm, 180 mm, and 260 mm. Additionally, the SmartFlex Helix does not require any lubrication, providing a cleaner environment and reduced risk of contamination.
The new SmartFlex Helix was showcased at PACK EXPO in a loop with a 3200 Series modular belt conveyor and a SmartFlex wedge elevator—a system where products are wedged securely between opposing conveyors to move them vertically or horizontally between production floors or different elevations.
Companies in this article