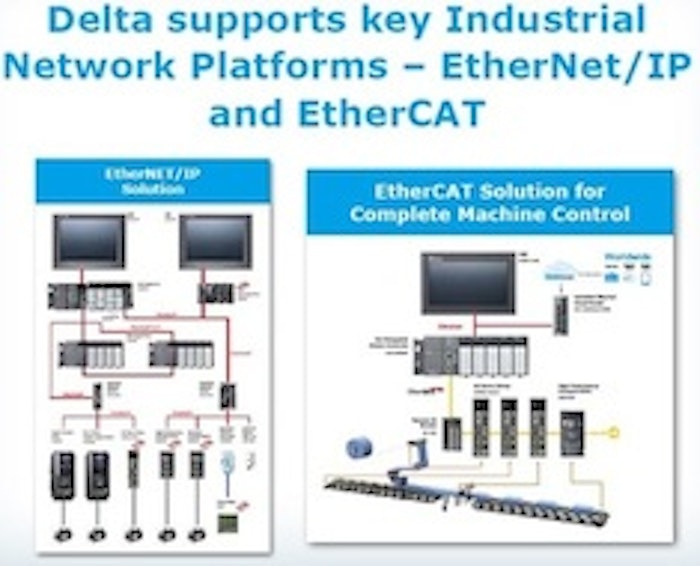 Delta launched its R1-EC series remote I/O modules during PACK EXPO Las Vegas at booth C-3400. Now, OEMs can cost-effectively configure their control systems in a more modular fashion without having to sacrifice performance, according to the company. Being fully conformance tested through the ETG (EtherCAT Technology Group), Delta's R1-EC series remote I/O slave modules are easily connected to any EtherCAT master for high speed deterministic control. The R1-EC Series is designed for faster, real-time precision machine applications with various remote extension modules including: Digital Input (DI) down to 0.1msec, Digital Output (DO) at 0.5A per point, Analog Input (AI) and Output (AO) with 16-bit resolution, and single-axis pulse output to support stepper drive control.
The R1-EC series I/O modules are DIN rail mountable, slice oriented, and include removable "push-and-plug" terminals for simplified wiring and quick installation. The devices have been designed and tested to EMC noise immunity based on ESD, EFT, RS standards (IEC 61131-2, IEC 61000-4-2) and high vibration resistance conforming to EN 60068-2-6 and EN 60068-2-27/29 to meet industrial usage.
"When Delta's R1-EC series I/O module is combined with the A2-E Servo Drive and MH300 VFD by Delta, a more streamlined EtherCAT based solution can be single-sourced," says Bill Faber, Director of Product Marketing for Delta Products Corporation.
The addition of this product line expands Delta's EtherCAT offering for deterministic machine control, suitable for applications including: Rubber and plastics, laser engraving, flame cutting, robotics, five-axis CNC machine tools, automatic palletizers, water-jet cutting, and packaging systems.