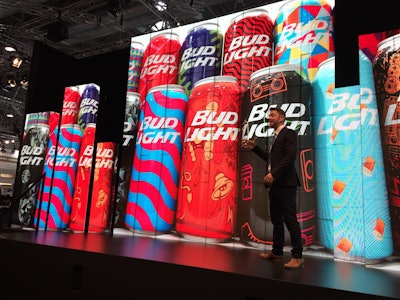 A selection of digital printing presses, dozens of samples of digitally printed packages, and "The Box of Ideas" are among just some of the features of the HP Inc. booth at interpack 2017 selected to showcase HP's high-quality, on-demand printing capabilities. At a press conference during the show, Santi Morera, General Manager & Global Head, Graphics Solutions Business, for HP spoke of how the company has grown its technology offerings to include digital presses for labels, flexible packaging, and folding cartons, and now for corrugated packaging.
Scheduled for commercial launch in 2018, the new HP PageWide C500 Press for direct-to-board printing will have a production capacity of up to 25 million sq m/yr and will be powered by HP's PageWide thermal ink-jet technology.
"This post-print corrugated solution from HP is yet another step toward digital conversion of traditional printing, offering savings in waste and setup time and improved supply chain efficiencies, in addition to high-quality color graphics, easy customization, and unique versioning capabilities," Eric Wiesner, General Manager, HP PageWide Industrial Division, HP, told attendees at the press conference. "The HP PageWide C500 will help converters to differentiate with capabilities that only single-pass thermal ink-jet and aqueous inks can deliver."
The single-pass, digital post-print HP PageWide C500 solution is designed for any-sized corrugated facility for printing applications from shippers to high-quality graphics boxes, on coated and uncoatedpapers, without need for lamination, all in offset-replaceable quality.
HP PageWide C500 will also offer a fully integrated stack-to-stack workflow, including an in-line overprint varnish (OPV) solution. Converters will also benefit from a smooth integration to the HP PrintOS ecosystem and industry MIS, enabling an easy migration to digital with existing IT (MIS) infrastructure and prepress workflow.
Already in use by customers are the HP top-liner printers, the HP PageWide T400S Press and the HP PageWide T1100S Press.
In HP's Box of Ideas, attendees can step into a room with and watch a 360-deg video that explains the benefits of digital printing for corrugated.
According to Wiesner, the total addressable market for HP corrugated digital packaging is $3.5 billion in 2017, and is forecast to hit $5.5 billion in 2022.
Companies in this article