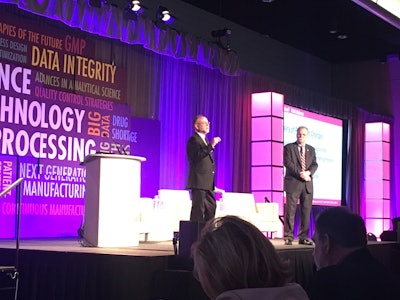 This week, at the Parenteral Drug Association (PDA) Annual Meeting in Anaheim, CA, the organization shared the news that it has been approved by the Executive Standards Council (ExSC) of the American National Standards Institute (ANSI) as an Accredited Standard Developer (ASD).
After 71 years of history as an international industry trade group that's worked to promote information exchange regarding pharmaceutical production, the news is big— but the step makes sense based on PDA's experience developing technical reports. "With a membership comprised of subject-matter-experts on a variety of subjects, PDA already had in place a rigorous peer review process for our technical report program that includes review and approval by various advisory boards and our Board of Directors," saidRichard Johnson, PDA President. "It does not require a great leap for PDA to move into the standards-setting arena."
The organization noted that it was approved by ANSI to be an ASD because of the broad portfolio of technical reports, which has grown to nearly 80 active documents, including a number of topics that are candidates to become American National Standards. PDA also has a long history of working with other organizations, including the United States Pharmacopiea (USP) and the American Society of Mechanical Engineers (ASME), to ensure PDA's activities do not duplicate or contradict other recommended practices.
What's next?
PDA is poised to make a positive impact, and is currently reviewing potential topics for standards development. The organization will likely choose an undertaking where no equivalent standard exists. While technical reports go through a three-stage review process, standards will differ in that they include a period of public review.
"PDA's science program historically has addressed topics that fill gaps that exist in existing regulations and standards used by manufacturers of sterile drug products," saidRichard Levy, PhD, PDA Sr. VP of Scientific and Regulatory Affairs. "Our series of technical reports on aseptic processing and sterile manufacturing, microbiology, and drug/device packaging and delivery systems, such as prefilled syringes, are examples of documents that would be good candidates to become American National Standards."
Additionally, approval to become an ASD was granted based upon standards development procedures PDA has established that meet or exceed ANSI's due process requirements, and that PDA will ensure adequate resources are dedicated to standards development.
Companies in this article