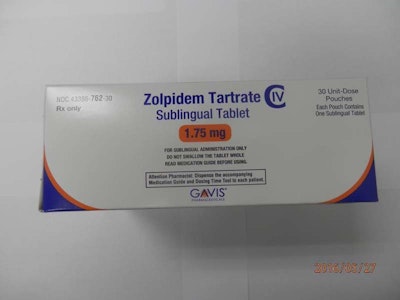 The U.S. Consumer Product Safety Commission announced July 27 the recall by Novel Laboratories of its Zolpidem Tartrate blister packs due to failure to meet the child-resistant closure requirement as required by the Poison Prevention Packaging Act, "posing a risk of poisoning if swallowed by children," according to CPSC's website.
CPSC says while no incidents or injuries have been reported, the recall involves some 5,700 boxes of 30 blister packs. CPSC provides the following product details:
"This recall involves 1.75 mg and 3.5 mg Zolpidem Tartrate sublingual (rapid dissolve) tablets from Novel Laboratories. The prescription medication is a sleep drug. The packaging for the 1.75 mg tablets has lot number M16140A, 1.75 mg and national drug code (NDC) 43386-762-30.
"The packaging for the 3.5 mg tablets has lot number M16144A, 3.5mg and national drug code (NDC) 43386-761-30. The Zolpidem Tartrate is packaged as a single tablet in a peel-and-push blister pack inside an outer open-ended pouch with 30 pouches per box. The lot number and an expiration date of 02/2018 are printed on the bottom left of the pouches. The NDC is printed on the top left corner of the boxes. "Gavis" is printed in blue on the center of the white boxes and pouches.
CPSC notes the remedy in this instance is a monetary refund, saying, "Consumers should immediately stop using the recalled tablets and contact Novel Laboratories for instructions to receive a full refund."
Manufactured by Novel Laboratories of Somerset, NJ, and distributed by Gavis Pharmaceuticals, both LUPIN Group companies of Somerset, NJ, the products are sold at clinics and pharmacies nationwide, including CVS, Costco, Walgreens, Kroger, and Wegmans from March 2016 through May 2016, for about $800 per box of 30 tablets.
CPSC offers a consumer information hotline to address questions about the recall: 800-638-2772 (TTY 301-595-7054).
Novel Laboratories' toll-free number is (866) 403-7592. Online details are available here.